Tweet
The Most Honorable Flight ~ Photo Assignment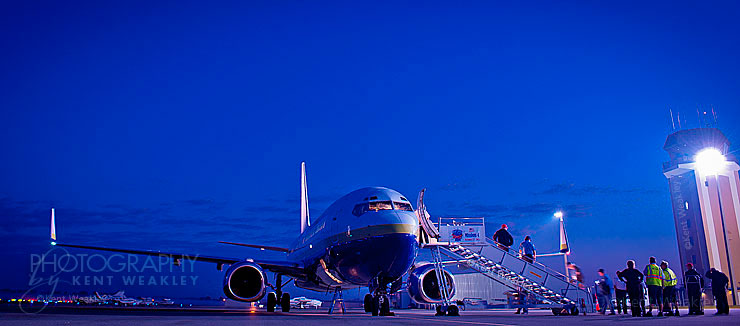 From time to time, as photographers, there are photo assignments that come up that are more important and challenging, than others. When these events come along they make us step up, work harder and perhaps do so more passionately. When we consider the importance of the event, especially from our client's perspective it's easy to, off the cuff, use the term 'once-in-a-life-time'. But let's face it, even those important wedding shots can be recreated, in a worst case scenario.
What I'm talking about here is a moment that has been building for decades and rose to a climatic one-day event in history that included a community which reached in its collective pocket and raised $70,000+ to see happen. I'm talking about a journey and experience with over 170 active participants and hundreds more supporters who could not directly participate. And I'm talking about people who have done and seen things we have only read about. This is about people who have beaten amazing odds just to still be here among us. Unfortunately, I'm talking about people that will most likely not be with us for much longer. I'm talking about an experience that would not be possible if all these factors did not come together at this precise moment in time. I'm talking about a real ONCE-IN-A-LIFETIME opportunity.
Where It All Started
If you've ever wondered how much one person can really do, and you haven't seen It's A Wonderful Life (which you should watch), consider reading the full story of Earl Morse's good deed. In 2004 the World War II Memorial was finally completed in Washington DC. Earl, working with WWII veterans at V.A. clinic in Ohio, kept asking the vets if they were going to go see 'their' memorial. Most couldn't afford to or weren't comfortable traveling the distance. Well as it turns out, Earl is also a retired Air Force Captain, and happens to fly a small private plane. The idea was obvious and needed to happen. Earl asked one of the vets if he'd like to go see the Memorial that weekend, personally with him. He flew that veteran to Washington DC at his own expense. Word traveled fast and soon private pilots were following Earl's lead, making personal aerial shuttles, each carrying one or two, excited, and honored member(s) of American history.
The 'Greatest Generation' that won WWII will soon be gone and only remembered in books and documentaries. The contributions from their combined efforts are staggering, we only need to look at the possible consequences of their inaction. Today, as you read this, 1,000 WWII veterans will pass away. We are only a few years away from watching a thirty-second six o'clock TV news bite about the 'last known' surviving WWII veteran. And then…that door will be closed…forever.
Back to that 'once-in-a-lifetime' thing…now do you see what I mean? 🙂
The goal of the, now, National Honor Flight Program, is to help 30,000 WWII veterans get to Washington DC this year. Thank you Earl! Our community, Ocala, Florida, did an amazing job putting together this trip with 100 veterans and 70 volunteer support staff. The assisting and working volunteers were comprised of generous, giving citizens from our community among them fire-fighters, nurses, medical personnel, police officers, politicians, lawyers, realtors, daughters, sons, etc. who all worked together to see that these vets had the best, most memorable, day of their lives. I was honored to be invited to photo document this event and help preserve the memory of this day for the vets, their families, and to help promote more fund-raising efforts for a similar flight next year.
Due to the medical conditions of many of these vets, an overnight stay would be impossible. So what's the alternative? Get up early, which they do well, and spend one long, action-packed day in our nation's capital. My alarm clock went off at 4 a.m., but I was awake about an hour earlier, thinking about camera gear and worrying about missing the alarm. Been there before?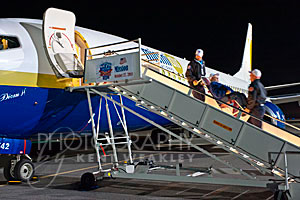 Once at our little local airport, volunteers were buzzing around greeting vets and checking off lists. The energy was high and excitement was in the air. Our privately chartered Miami Air, Boeing 737-800 (N742MA) arrived just after 6 a.m. Did you know you can rent these things? It was pretty much like our taxi, with wings, for the day. 😉 Ready for this? Our dinky little airport has no TSA, but because we were flying to Baltimore, we had to wait for TSA agents to arrive and do security screening.
The boarding went as smoothly as possible, with many vets being physically lifted up the ramp. In route we had a couple minor medical issues, but all were quickly managed by the amazing group of medics on-board. It was so impressive to see the medical crew. They were prepared for anything and everything. It was as if each medical personnel took this trip as a personal challenge to see that every veteran had a great day, despite any of the vets health issues–kinda like a human pit crew. 🙂
Surprises were in store throughout the day, as we had been told. The first such surprise was the initial welcome at Baltimore International Airport. As we taxied to the terminal, two large Baltimore Airport firetrucks (ARFFs) flanked our path and saluted our veterans with a water cannon arch over the plane as we passed under.
The second surprise, which completely took me back, were the active, full-uniformed, Navy personnel in the jetway. About ten sailors lined the narrow corridor and shook every vets hand as they got off the plane. After photographing the sailors for a bit near the jet entrance, I decided to follow a few vets up the ramp. The ruckus was loud, off at a distance and continued to grow louder as I weaved through numerous empty hallways. When I came through the last door, I nearly froze. There were about fifty more Navy personnel forming an curved welcoming line in the terminal. Instinctively I brought my camera to my eye. There was no real shot at that moment…the camera serves multiple purposes.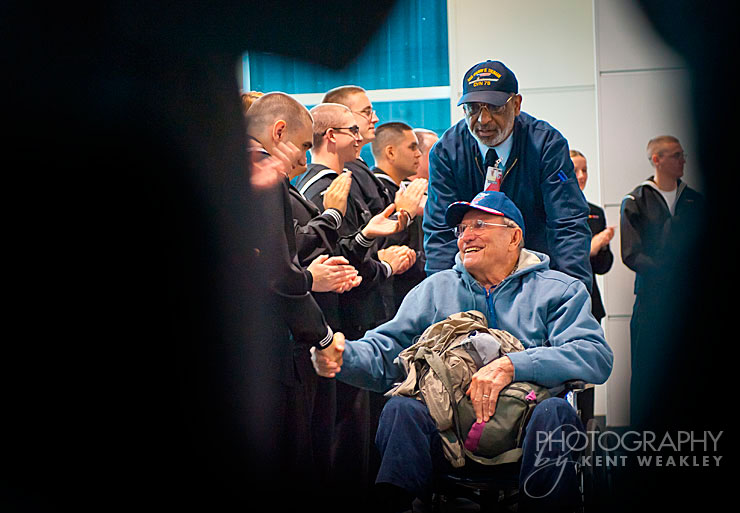 We might as well have been at the locker room tunnel for the big football game. That was the level of enthusiasm and energy we're talking about here. Our guys and ladies (there were four WWII female vets with us) were so excited to be greeted this way, they shook every hand and exchanged smiles with all. I shot from a variety of angles and I happened to be over the shoulder of a sailor as one of our vets looked him in the eye and said from the bottom of his heart, with a tear in his eye, 'thank you for being here'. With nearly a four generation separation, this 90 some year old veteran of World War II said this to a fellow 18 or 19 year old brother in arms. I simply lost it, which led to a very cool wide angle shot from several gates away. Funny how that works. 😉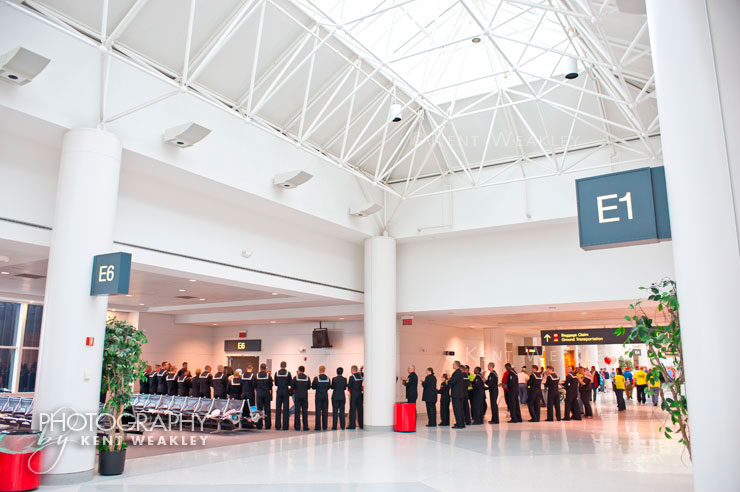 And by the way, this wasn't like 'honor flight day' and the Navy showed up for 20 or so arrivals like this…no…they were there just for our vets! After the inside welcoming, the sailors formed lines outside in front of our string of buses and waited patiently (nearly 45 minutes) for all our guys to be loaded. They stood at attention and saluted the buses as they drove off.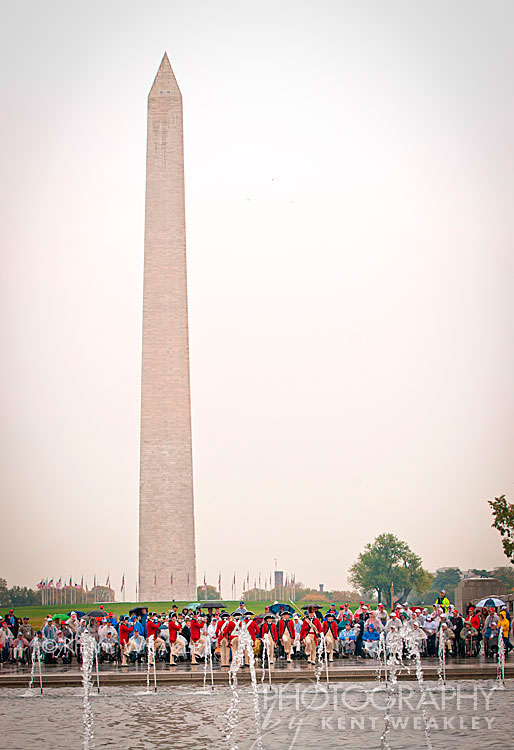 Drizzle filled the air as we made our way to the World War II Memorial. Ponchos were handed out and veterans began wandering throughout the massive granite monument. Family members of some of the vets began meeting us and our group grew. After some time to browse the memorial, our vets were gathered at the east end, in the rain, to watch the United States Continental Army Band perform, as promised.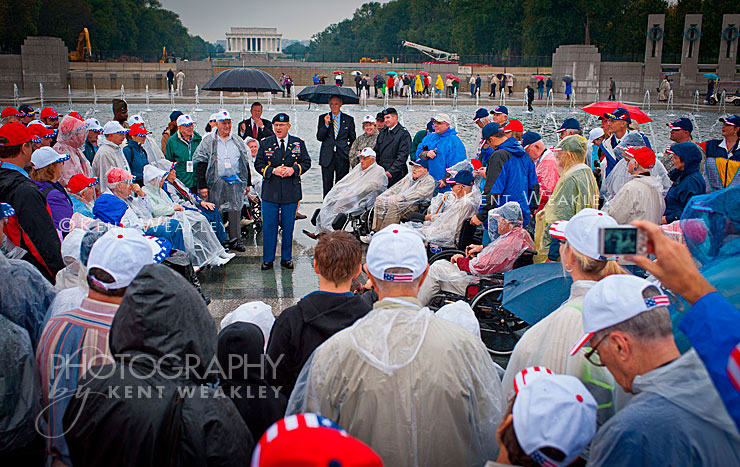 Afterwards, without the aid of a public address system, chairs were brought in close together, like kids at reading time, to hear inspired speeches from our Honorable Judge Jim McCune, Colonel David W. Sutherland Special Assistant, Warrior & Family Support Chairman of the Joint Chiefs of Staff, and Cliff Sterns, our congressman.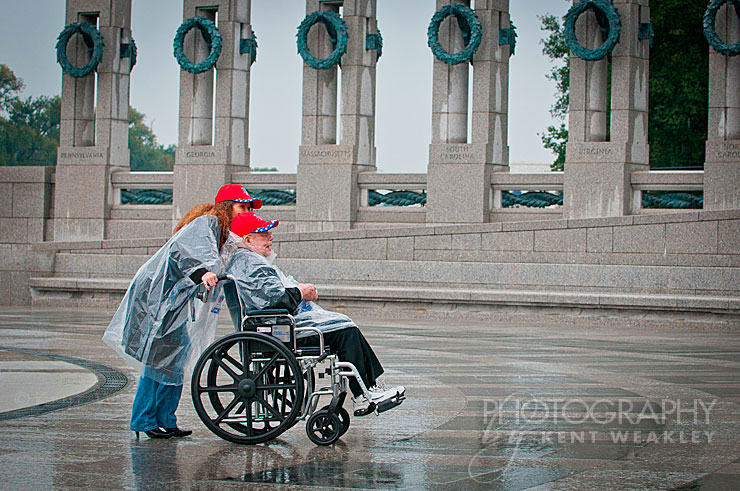 From there, the buses were loaded again and we made the trip down the Mall to the Lincoln Memorial, and the group photo. This was the challenge de jour~the one photo everyone wanted. Assessing the size, scale, and the fact that the wheel chairs alone would fill the front row, it was obvious, simply saying 'move in' wasn't going to cut it. Hmm…after all, what were we looking at here, minus all the people? Yes, a landscape. It was time for me to use some landscape photography 101 and build a panoramic image. Caution to the wind! These were my direct words, 'keep looking right here, I'm going to be taking lots of pictures'. What I probably should have said was, 'Watch this! I'm so crazy, I will now hand-hold my camera vertically and oscillate left to right in an attempt to create a massive pano image that will be sliced, diced, and stitched together later. Now, does everyone agree I look totally nuts up here?' Because that's essentially the look they were giving me afterwards. I could only smile from ear-to-ear because I knew I got the shot. 🙂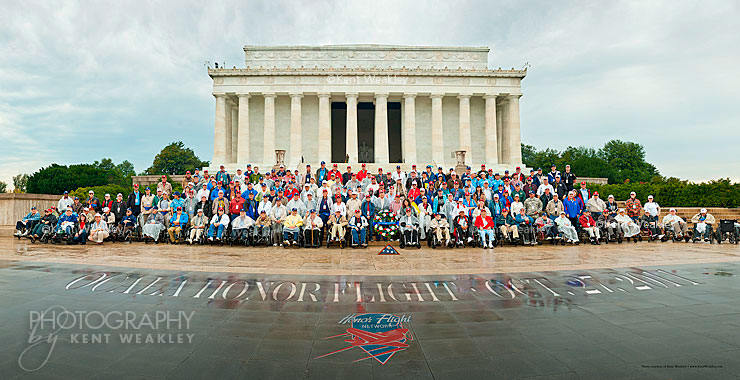 With the group shot complete, the veterans were free to browse the Lincoln Memorial or take the short walk to the Korean War Memorial. I got to meet one vet who served in WWII, Korea, and Vietnam, and there were several others who also served in Korea.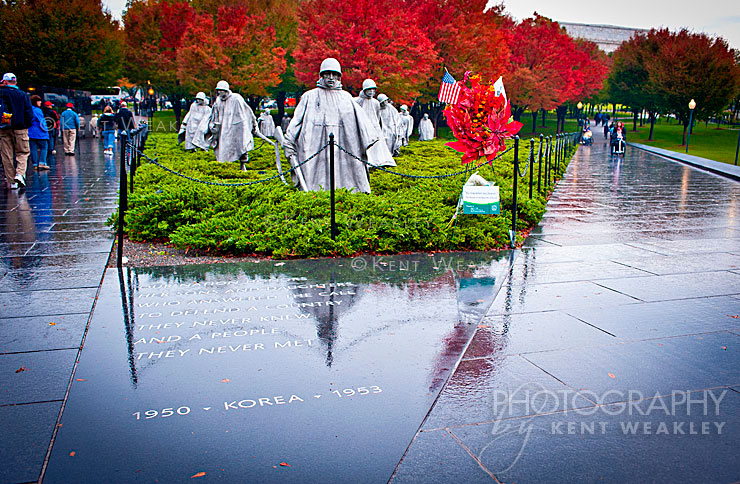 The fall colors were gorgeous around the Korean War Memorial. The guys reminisced about the weapons and details from the statues in this memorial. And the images in the granite wall were very powerful, to say the least. The overall aesthetic beauty of the Korean War Memorial did not disappoint.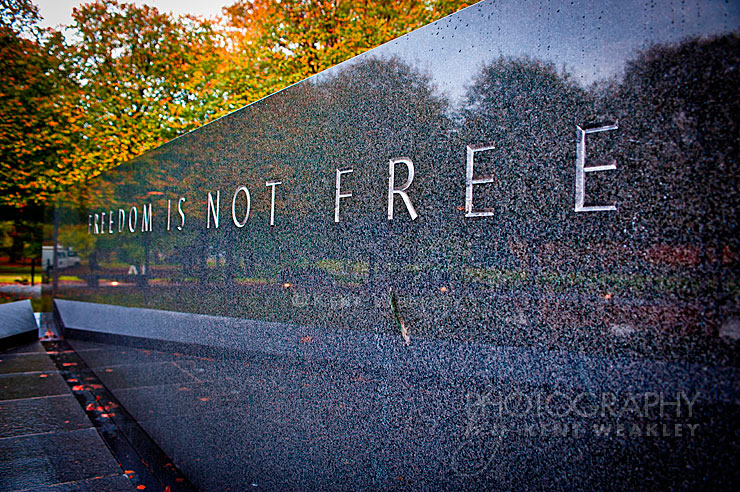 Once again the buses were loaded and we headed across the Potomac to Arlington National Cemetery. The diesels engines of the buses groaned up the peaceful and somber roads of the cemetery in route to the Tomb of the Unknown. Along the way, we encountered a soberingly beautiful full officer's funeral in progress, complete with horse-drawn carriage rolling the flag covered body of another hero to his final resting place. The riderless black horse with reversed boots in stirrups, the military band positioned under the tree, and the row of rifled soldiers all prepared to bring the most dignity possible to the closing pages of the final chapter in that patriot's life.
Further ahead and at the top of the hill, a middle school class from Ohio was waiting to see and shake the hands of our WWII veterans as they entered the Arlington amphitheater. It was interesting watching these two distant generations appreciate each other. I couldn't help but wonder, do these kids really know what they were seeing? Or was this one of those things they will only truly understand many years from now, when they have kids and truly appreciate the shortness of time and history?
Wheelchairs, veterans, and volunteers lined the entire south end of the Tomb of the Unknown. The timing was fantastic, as we arrived about ten minutes before the changing of the guard. The dedication and precision displayed by the Honor Guard is a sight that must be witnessed personally. I've been to DC five times now and every single time, since my first trip, I've made a point to come to the Tomb of the Unknown. I'm not sure why…there's something powerful, peaceful, patriotic, beautiful, and simply unique that makes it so appealing to witness.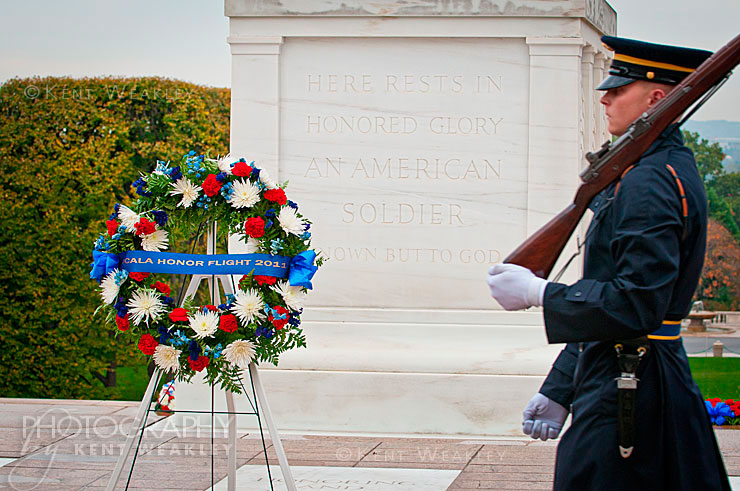 Throughout the day we traveled with a commemorative wreath which would be laid at the Tomb of the Unknown. Two veterans from our group were selected to do the honors. At the top of the stairs, next to the amphitheater, the head Honor Guard marched and, at ease, greeted our dignitaries and explained the wreath procedure. With an about-face, he returned to his robotic guard self and advanced to the top step. The two gentlemen awkwardly negotiated each step down to the tomb. I was so scared for them, that I took one shot and had to turn away. I left my position to get set, at the north end, for a closer shot of the guard who would be playing taps.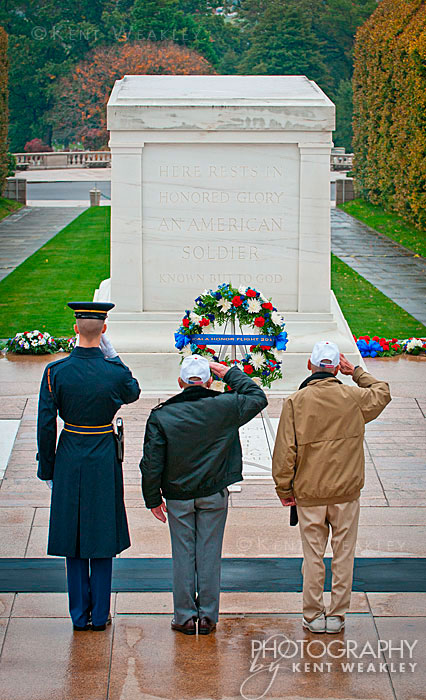 Once at my new post, I was relieved to see both veterans made it down ok. I photographed the crowd along with the bugler and started back to the south side with our group. Because of the required silence and profound respect of place, no one gasped or yelled, when one of our two wreath presenting vets attempted to mount the first step back up the staircase and landed on his head. All eyes were fixated at the scene, but all mouths remained silent, as is customary at the tomb. It was an extremely odd simultaneous display of shock, compassion, and respect.
Remember me telling you about the medics? Seven medics were on him faster than… (insert your saying here, and tell me what it is in the comments below, please). With a quick internal justification, not to embarrass this vet, but rather to show the efforts of our volunteers, I snapped a couple shots just to show everyone how amazing the medical team was throughout the whole trip. Within a few minutes our guy went from flat and motionless to bandaged and explaining how embarrassed he was to cause such a fuss. Oh, he sure did give us all a scare.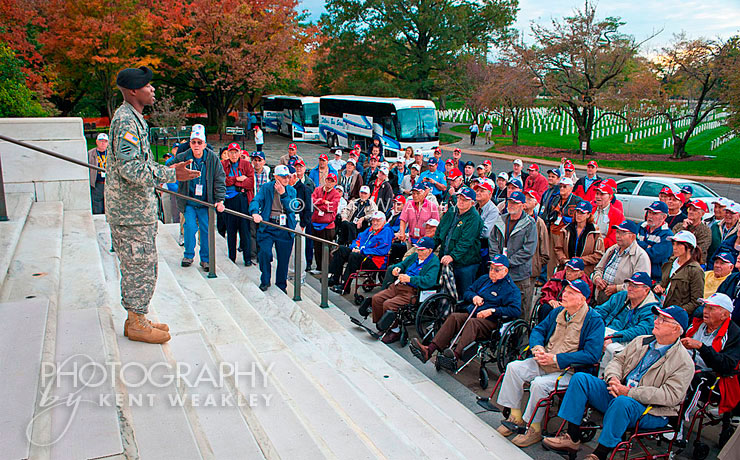 With the excitement of that episode settling, I headed back around to board the bus, or so I thought. Instead I was surprised to see most of our group gathered around the base of the west staircase. Sergeant Skywalker, Honor Guard (#590) a member of the elite Arlington Honor Guard, in military fatigues and at liberty to speak freely, was about to address our veterans. Let me tell you, this man's enthusiasm, passion, and charism was one of the highlights of my day, and that's saying something. This day was littered with highlights. 🙂 He spoke to the veterans and explained that the guards do what they do because of them and to honor them for their service to America and the entire free world. He went into great detail about the role of the Honor Guard and the amazing 95% drop-out rate. The tomb is guarded, and has been guarded since 1958, 24 hours a day, 365 days each year, non-stop by these men.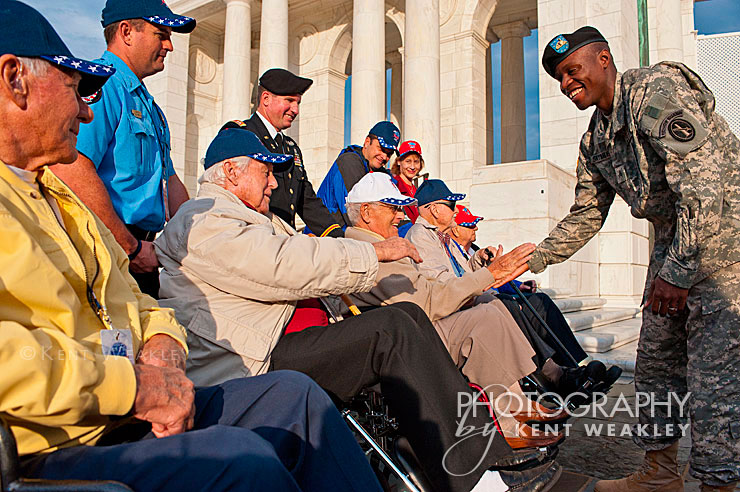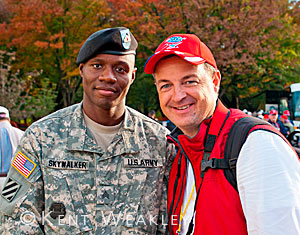 Then Sergeant Skywalker revealed a little secret, he explained how he gathers up enough courage, determination, and strength to do the grueling, monotonous job of guarding the Tomb of the Unknown to the level that is demanded. It's a technique he uses and strongly encourages every new Honor Guard member to practice as well. He makes a point of coming out to speak with, personally thank, and appreciate every visiting veteran group he can, when he's off duty. And he concluded by saying 'not one veteran is allowed to leave here today, until I get to shake your hand.' Ninty-year old men were standing up out of their wheelchairs to hug this inspirational soldier.
Sightseeing completed, we started the two hour trek across rush hour traffic back to the airport. The veteran with the head injury was stable and fine, so our medical director made the decision he was fit to fly. Under the night darkness and drained energy levels, little photo opportunities remained at the moment. I packed my cameras and helped out by pushing the wheelchair of one Jimmy Archbell, a twice-decorated Purple Heart recipient. Jimmy served in the Pacific in L.S.T. tank boats and he shared stories with me as if I were his grandson. Without any coaxing, I ended up sitting next to him on the flight home where the stories continued and he even showed me a couple card tricks. A passenger nearby joked that he learned those tricks from pretty nurses while he was laid up recovering from war injuries.
At nearly eleven o'clock at night we landed back home in Florida. Oh, but the fun wasn't over yet. 🙂 Awaiting us on the tarmac were over 3,000 people who came out to give these veterans a true welcome home. Again, airport firetruck water cannons were used to salute and honor the veterans in the airplane as it approached on the taxiway, a tradition usually reserved only for retiring pilots. (thanks to my son, Max, for landing this shot)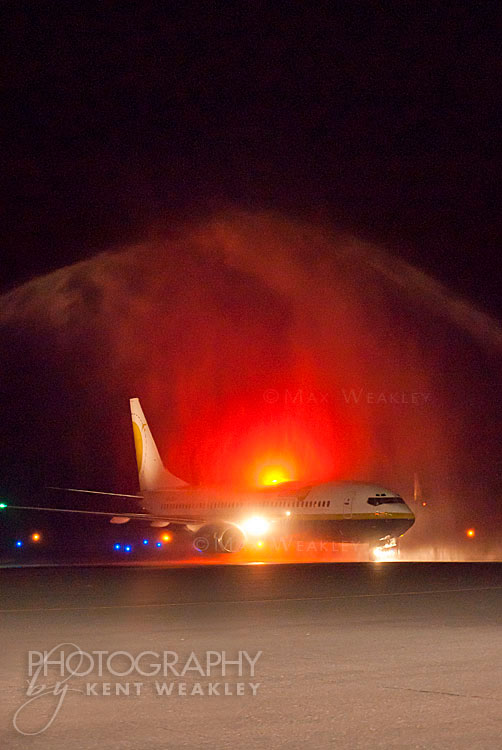 Crowds of people cheered and hollered as the exhausted, but re-energized and appreciative vets disembarked the aircraft. Flags flew and hugs were many. All the effort had culminated in a successful, memorable, once-in-a-lifetime day!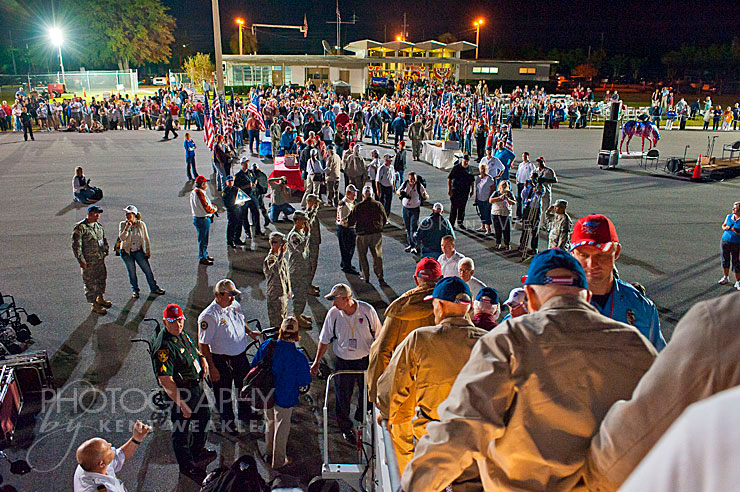 Photography and Preparation Side
I did plenty of planning and prep for this trip. I needed to be light and nimble so I downsized to an older smaller backpack for two reasons; I wouldn't need a ton of extra gear, and it was important, with the frailty of some of these guys, that I not knock them over with my regular pack. And that's not an exaggeration, I've unknowingly taken people down with my 30+lbs camera pack appendage.
There absolutely needed to be back-up redundancy built in to this plan. Equipment failure or damage was not an option. I needed two cameras in the event of some kind of malfunction, not that it has happened, but it's good to be prepared. I shot medium to wide lenses with my Nikon D700 and my 70-200mm f/2.8 lens remained affixed to my Nikon D300. Batteries…hmmm…yes I brought them all (5), as well as all my memory cards (all 96 Gbs worth). That is how I roll, and it helps me sleep at night. 🙂
Besides the gear, I needed to be ready to move anywhere at any moment. And if you've ever been to Washington DC, you know there's a ton of walking and concrete. The last thing I needed was for these vets to outpace me. I needed to be a human spirograph circling these guys looking for and creating the next shot. 🙂 It just so happened that a good Twitter friend, Ruthanne, was posting tweets about Couch to 5K (C25K) a few months ago, so I checked it out. I'm happy to say I'm now in week 7 and enjoying it. I'd always hated running, but now I'm doing two and a half miles in 25 minutes, and it's kinda cool. Ruthanne's much further along and has her whole family signed up for an official 5k run soon. Thanks for the inspiration! 😉
Who Was Honored?
At the end of the day it's really hard to say who wasn't honored. The veterans were the true guests of honor, but everyone felt a tremendous sense of honor as well for being part of this once-in-a-life-time trip. Not one volunteer was paid for their time and talents, and yet I think there's probably not one person that wouldn't do it all again…and again. Heck, they'd probably pay good money to have that opportunity again. Like so many of the really GOOD things in life, money plays no factor. The feelings and memories created on this trip can't be paid for or bought. This experience was solely about these World War II veterans, but for everyone involved, it was the Most Honorable Flight!
If you've made it this far, thank you and now I'll let you see all the photos. Please keep in mind, these were shot in the moment and the perfectionist in me couldn't possibly make them all as great as I would have liked. But at the end of the day, it was about capturing and preserving this day in history. Here is the complete set of photos. You may need to get another cup of coffee, or brew a second pot. Please leave me a comment, I'd love to hear your thoughts. 😉