Tweet
Video Photo Tip ~ Affordable Underwater Photography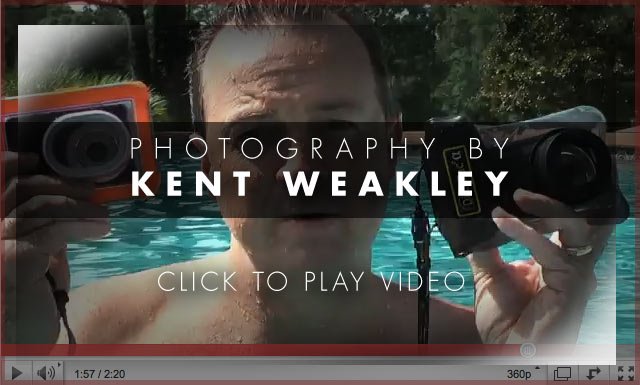 Shooting underwater can be expensive with full professional gear, and disposable waterproof cameras aren't very good at giving feedback while you're shooting in the water. Not to mention the fact that you can only shoot a limited amount of frames and you have to process film. That's so like 2007, or something prehistoric like that.
There are several brands of inexpensive plastic underwater housing that will fit most point and shoot cameras. In a dry place, simply place your camera in the housing, seal it up, and you're set to get wet. The camera controls are accessible right through the housing. The best part – you can see the LCD monitor on the back and check your progress. My favorite feature is using the point and shoot's built in video in the water.
Be sure to dry the case thoroughly before opening and removing your camera. Also, it helps to start with fresh batteries, as you will need to completely dry, remove, and reset everything in order to swap batteries.
Here are the links to the two housing I feature in this video:
So, if you plan on getting wet, bring your camera and take pictures where you never imagined before; in the pool, at the beach, in the tub, anywhere.
Also, these cases make a great camera protection in general. In other words, if you're going to shoot in an area that has less than ideal conditions, (sand, dirt, food, etc.) this can help protect your camera.
Photo Tip ~ If you have a photo tip or would like to have a photo question answered, send me an email. Be sure to subscribe for free to this blog to receive ongoing great photo tips and inspiration! If this was helpful, please leave a comment.