Tweet
The Ultimate Honor – Gratitude
The rate is 1,500 per day.
Fifteen hundred World War II veterans are passing away each day. Not week, month, or year— each day.
This is to be the last Honor Flight from Ocala, simply because these guys (and gals) are getting too frail for this trip to Washington DC.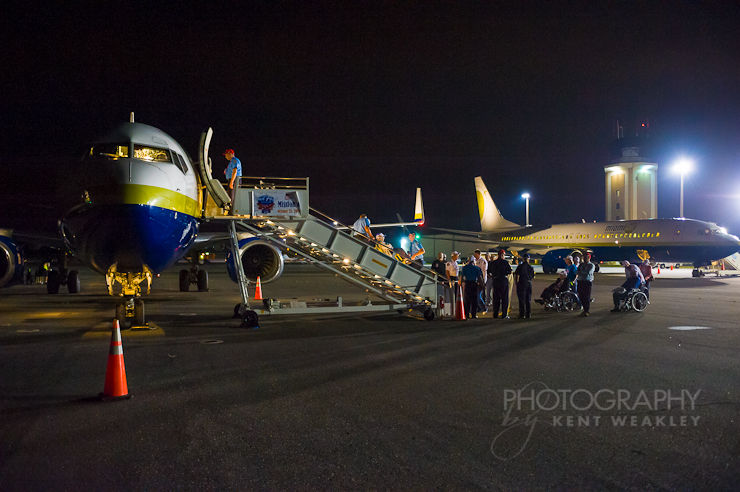 I was blessed last year with the privilege to join this group on their journey to DC and I was asked to return. Perhaps a vote of confidence, or simply a lack of photographers. 🙂 Regardless, I did not hesitate to raise my hand enthusiastically for this, the final trip.
What made this year's trip special was the sheer size and scale of the expedition. There would be two Boeing (American-made I assured, as I discovered several of the veterans were very concerned where the aircraft was manufactured) 737-800s to take the entire  group from Ocala, Florida to Washington DC. Now mind you, this is not a group coming from Chicago or Los Angeles. No, we're from Ocala. How many people have heard of Ocala? Well, we were about to beat all other cities and communities in the entire country  for the largest Honor Flight to Washington DC ever! There would be nearly 300 of us in total making the trip. Our little community, struggling the same as the rest of the nation with high unemployment, managed to raise over $170,000 from Chick-fil-A fundraisers,  individual donations, and weekend fundraising drives of every imaginable sort.
We know how special our veterans are and how little time we still have with them.
The planning took nearly a year, starting immediately after last year's flight. All the dots had been placed and the t's had been crossed. Meeting after meeting reiterated all the details. All the families knew exactly where to bring their beloved grandfather or grandmother and at exactly what time to arrive. The planes were efficiently loaded and ready for departure. It was 6:45 a.m.—I had been up for three and a half hours at that point—and I was as excited as I remember being as a 10 year old at about that same time on Christmas morning.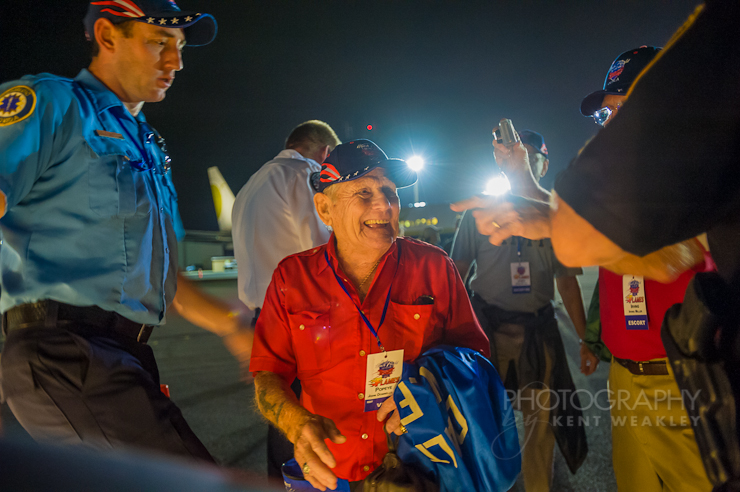 I loaded last on the plane, as I completed shooting the two planes on the tarmac. Upon entering, I retrieved the GoPro camera I had clamped to the doorway inside the plane awhile earlier, in hopes of creating a time-lapse video of the entire loading process. Looking around, I found my seat, nearly the last available.
John Calhoun was the name of my seating companion to Washington. John was my buddy for the next hour and a half, and he had stories to share. Living alone with his dog would seem to add to his desire to share stories, and I was eager to listen. As it turned out, John had been a photographer for the Navy. He explained how they would use buckets of ice on ships to cool the chemicals used in processing color prints. The main goal of his photo assignments was to determine how accurately a torpedo or gun was fired. This usually meant being extremely close to where the ammunition was discharged and photographing the results. He explained how he wore a concussion suit designed to withstand close explosions, but how after his shoots and disrobing, he would be still covered with black powder soot from the constant detonations. It was a privilege to sit with him.
We landed in Baltimore and the excitement was present in the air. Then it was announced: The second plane of our company was not with us. There had been a mechanical problem and plane number two was still on the tarmac in Ocala. During preflight checks, a fuel valve to the second engine had failed. The plane was restarted, more like a computer rebooting, but still no luck. The airline had sent a mechanic to travel with us and luckily he was on the second plane. Still, the mechanic could not resolve the problem. Half of the contingent that was to be the largest was stranded and would not make the trip that day.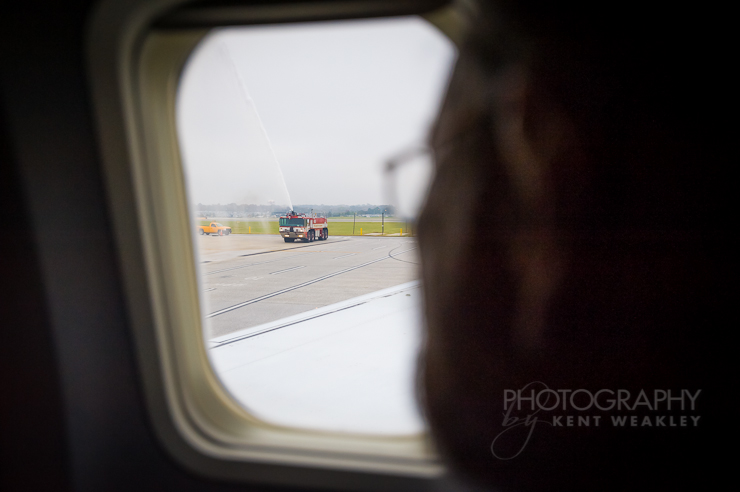 I waited for the punch line. Surely there had to be some silly joke and that "the second plane is still on the ground in Ocala" would turn out to be untrue. Unfortunately, it was a fact devoid of all humor. The whole concept of half the group being in Washington and the other half not making it was like a punch to the gut. Just as we had landed in Baltimore, it felt like half the wind was let out of our sails.
Regrouping, I tried to focus on the positive aspects of the moment. We have 70+ WWII veterans here right now and this is their day. And another reality:  As I have been dealing with a personal hearing loss, I know most of these guys have severely reduced hearing as well. So I hoped many of them did not even hear what was going on with the other plane. I decided that's just how it would have to be:  "This is what we have and what will be, so let's go make the best of it." And that is exactly what everyone else did as well!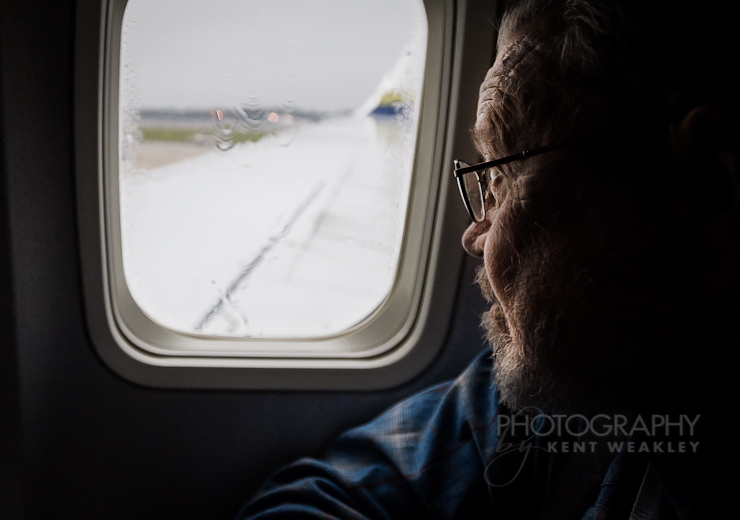 This is John watching as the Baltimore ARFF truck greets our plane with a heroic water canon arch. It's not raining—that's an awesome salute.
Navy personnel and local Washington DC Honor Flight Volunteers lined the ramp in the terminal to clamp, holler, and shake hands with our veterans. I knew this was coming and I was prepared. None of that emotional thing like last year, or so I thought. What gets you is the fact that the active Navy folks and volunteers are so genuinely appreciative of the vets that you can't help but get overwhelmed with emotions. No. Not this time. I knew how it was all going down and I steeled myself to the job at hand, making photos.
This was all fine and good until it happened. Completely caught off guard, looking through my viewfinder, I witnessed a veteran break down, completely overcome by the unconditional appreciation. My vision blurred and the viewfinder failed me. I had to suck in long and hard for air, as I turned, lowering my camera, looking up to the ceiling, walking away from the moment.
I chuckled to myself at the fact that here I was again, standing at about the same spot in the terminal as last year. The vets and eager greeters were in nearly the exact same location as before when I needed a few moments to collect myself. You think you are over things or capable of handling it, but the the powerful stuff always has the same effect, every time.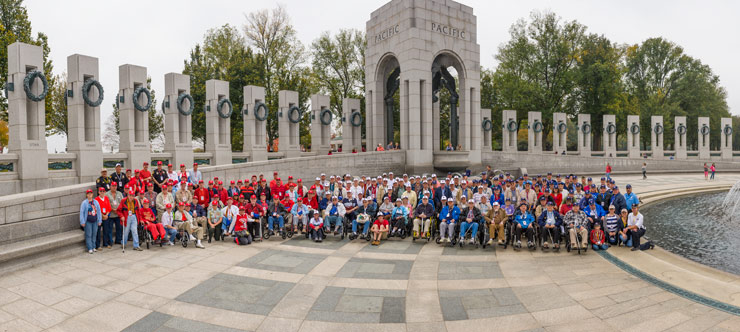 We continued through the agenda. First the World War II Memorial, a drive pass the Lincoln and Korean War Memorials and then on to Arlington National Cemetery.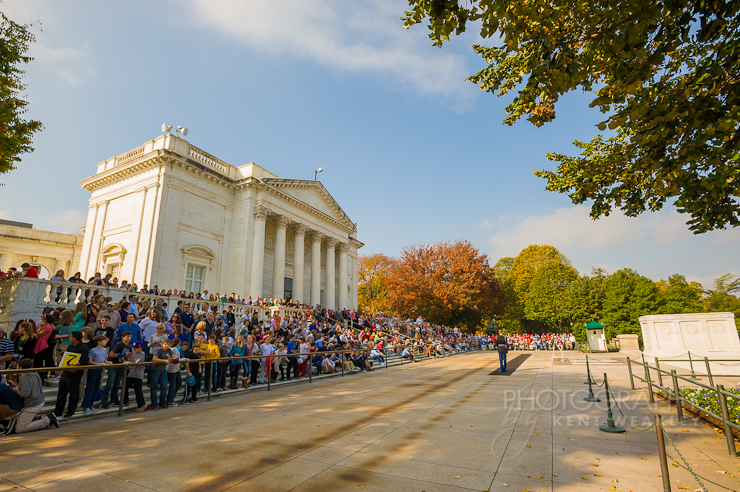 The volunteer escorts assisting these veterans were simply amazing. They attended to every need and made sure each hero's day was the best possible. Listening was probably the most valuable gift. Each veteran had endless stories and thoughts to share and it was a thrill listening to these unfurl throughout the day.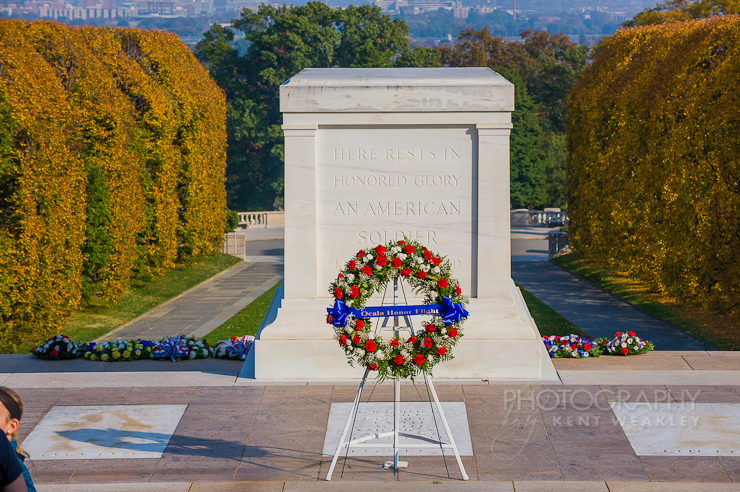 We really could not have asked for a better, smoother day, despite the second airplane. Everything proceeded smoothly and we returned to the airport with time to spare. Because our plane had to file a flight plan, we couldn't simply take off when we wanted, so we had a little time to pass.
Ironically, in the terminal at the Baltimore International Airport, dozens of active military personnel were waiting for their flights to take them to their next deployment. Several of the younger guys were intrigued by the sight of our group and came over to visit. With what looked more like grandfather-to-grandson conversations, a crossing of paths occurred. These men, both essentially took the same oath to defend our country, America. Our veterans had done this many years ago and were just visiting the memorial honoring their efforts, and these active military men are heading out to do what needs to be done now, at this moment, to protect our freedom and liberty.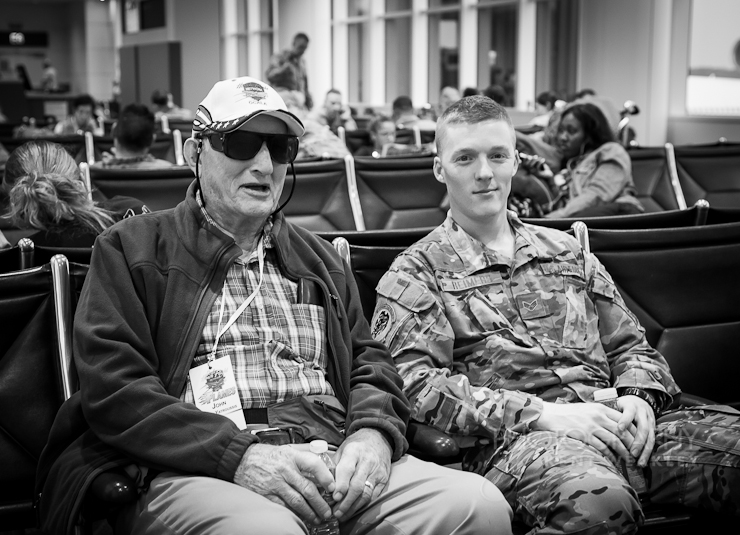 The symbolism of this chance meeting in an airport was lost on no one. I had several people leaning up to my camera as I continued to shoot whispering, "Are you getting this?" and "Can you believe this?" Oh, I was getting it all right. Perhaps these weren't the most technically amazing images from the trip, but they carry some incredible weight and meaning.
Again, our amazing community came together to greet these heroes from the greatest generation as they returned that evening to Ocala. Fireworks exploded overhead as bands played patriotic music behind thunderous applause, which continued for each and every veteran who exited the plane and headed back home, to their spouse or dog.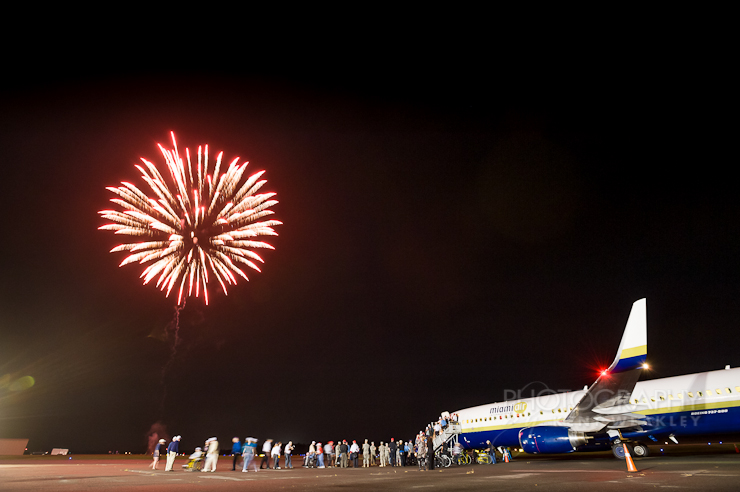 I have to wonder, do they think about those days in the '40s when they were probably in their 20s? Have they doubted the importance of their contribution to our freedom? Many veterans openly dismiss their contribution to the war effort. It was their buddies, they explain. Their buddies who were killed in action—they were the heroes. They try to deflect any honor. Most would never consider coming on this Honor Flight, if it were not to honor and pay tribute to their buddies lost in action.
Well, I hope one thing, as these veterans return to their normal lives. I hope they realize from this one day traveling to Washington DC and from the efforts of their community, they are not normal. Our veterans are extraordinary and they need to know this outright and unequivocally.
Thank you to everyone who stepped up and made all of this possible!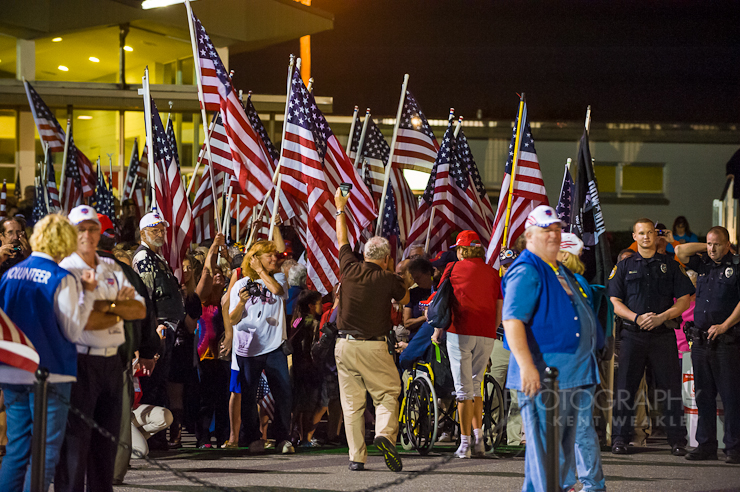 Update:
The second plane that was grounded will be rescheduled for the spring. Keep your fingers crossed that all the vets scheduled will be able to take this rescheduled trip with the group.  
Photography Notes:
I shot all of these images with my Nikon D700. I used some extreme ISO settings (i.e. ISO 1,600 and 3,200) and noise reduction in Lightroom afterwards  in order to capture scenes more like the way they appeared, rather than artificially blasting them with a strobe. And I used my full range of lenses (17-35mm, 28-70mm, and 70-200mm all f/2.8), with a preference for my 28-70 and 70-200mm. I also created time lapse sets of images using a GoPro video camera. [/fusion_builder_column][/fusion_builder_row][/fusion_builder_container]