Top 10 Photoshop World Survival Tips
Top 10 Photoshop World Survival Tips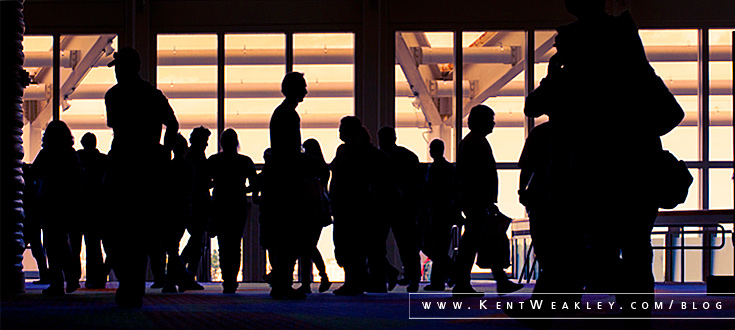 Top 10 Photoshop World Survival Tips
1. Attire
Wear comfortable shoes, and layers of clothing or at least an extra sweater. The A/C can vary by room and sometimes is cold.
2. Sustenance
Bring snacks, save a few bucks and pack a lunch. Also it's a good idea to bring water.
3. Download the PSW app
Plan your schedule ahead of time on your iPad or iPhone.
4. Use the big handout book
Resolve schedule conflicts with the handy, yet large, PSW directory. Be sure to review the available class notes for content hints.
5. Arrive early
You'll be able to sit closer to the front, get organized, and relax, if you arrive early.
6. Pack light
While there's room for everyone, it's not easy or comfortable with big bags and stuff spread all around.
7. Take notes
8. Be a good neighbor
This may seem obvious, but turn off your phone, be quiet, don't shuffle around during presentations.
9. Change it up
Attend some sessions out of your comfort zone or normal routine. You'll be surprised what you'll discover!
10 Pace yourself
Be prepared to start having creative thoughts like you've never imagined. And, if you're not already, plan on becoming hooked on learning more and more about Photoshop on a regular basis.
You will be surrounded by Photoshop knowledge, but don't fear. Go confidently and steady, make no false moves and you will survive. Actually you'll do more than survive, your Photoshop skills, productivity, and creativity are sure to thrive and grow by leaps and bounds.
This will be my fifth PSW and this list represents many of the things I think of heading into PSW. Have you attended? If you have, what would you add? Please leave me a comment below.

Enjoy and I'll see you at Photoshop World!