Tweet
First Time at PhotoShop World
I remember distinctly my first time at Photoshop World several years ago. Being a graphic designer and photographer working with Photoshop since it's very first version (which wasn't called version 1, it was just Adobe Photoshop), I was a bit apprehensive as to what I might or might not learn. After all I had mastered all the areas of Photoshop that I used on a daily basis, or so I thought.
Upon arriving I realized there was an excitement in the air, an energy amongst all the creative souls gathered together. The event's agenda and notes were packed in a telephone book sized handout. I began scanning the pages to find things new and old, but mostly new. There would be designers, photographers, and artists presenting information from perspectives I had never even considered. Excitedly I began choosing classes to fill the time slots available. The classes that were my second choice would have to be missed, but wait, I have the notes and information in this massive directory. Information was flowing in all directions.
It all seemed too good. New ideas, knowledge, and inspiration was coming at me from every turn. To be honest, the first day I was like a kid on Christmas morning, the second day I was fantasizing about ways to apply these new techniques. By the time day three arrived, I was whooped! My head was spinning with my over indulgence of Photoshop 24/7. I was the relative passed out on the couch after too many servings of Thanksgiving dinner. It hurt, but oh it felt so good.
So fast-forward to today, with four Photoshop Worlds under my belt and another one coming up in March, please take my advice. Be sure to see the things that interest you, but also step out of your comfort zone and attend a couple sessions on something you normally wouldn't. Get good sleep each night, eat well, show up early, and take notes, lots of notes. You will be presented with big picture concepts and ideas you haven't even imagined and you'll have little innocent looking gems placed on your lap that will change the way you work forever. Be ready for them and pay attention.
It was in one of these situations were I picked up this little nugget that I will share with you in the video below. I was attending a session conducted by Bert Monroy. I had never heard of Bert before this and I had heard he was creating "illustrations" with Photoshop. No big deal, right? Wrong! This guy was, and is, "off the chain" good! My previous misconception of an illustrator using Photoshop was of someone using the lines and brush tools to make pretty pictures. This is not Bert. No, Bert uses every aspect of Photoshop to create ultra-realistic illustrations that will make you think they are photographs. He's using layers, masks, textures, layer blend options, layer styles, etc., etc., etc.
So there I sat and Bert was showing us this photo-realistic illustration of a wood salad bowl sitting on a table. The problem he was facing was making the top rim of the bowl with a wood grain edge in perspective to match the rest of the bowl. From that little moment, in the BIG concept of illustrating with Photoshop, Bert handed me this little jewel, which I'm now handing to you…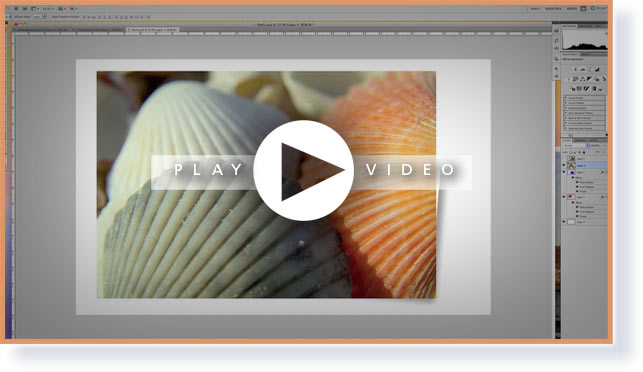 Big things come in little packages.