Tweet
Sweet Shot Tuesday 103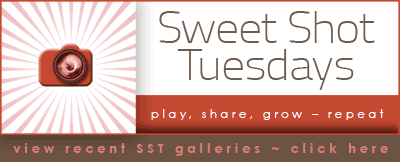 This week's SST finds me virtually right here, but physically on the other side of our beautiful country. More about that later. I made two random discoveries within minutes of each other this morning.
If the wind blows hard enough and all the available techniques to stabilize a tripod fail. And the photographer (a.k.a. yours truly) isn't willing to pack it in, but is willing to risk an ear ache, you can use your lens vibration reduction feature. It worked, but only because I was shaking from the cool and the wind was howling. Vibration reduction actually creates counter motion to offset vibration. Only in this instance on a tripod would I recommend using vibration reduction on a tripod.
Discovery number two ~ the new Nikon D800E has a surprise feature. Or at least it was a surprise to me. When I went through the set-up of the camera I plugged in my usually setting and preferences. When I got to the function button on the face of the camera, artificial horizon was an option. On my D700, I can display a compass on the camera's LCD screen to see if the camera is level. I use this feature seldomly, but it is handy for times when it's needed. Well, while my hands were shaking in the cold, I unknowingly bumped the function button on the front of the camera. No display appeared on the LCD, instead a HUD (heads up display) appeared in the viewfinder. A small center point along the top of the screen to indicate when the camera is level, and a second indicator on the side to tell how far the camera is tilted forward or backward. Too cool! This is very helpful when hand holding a panoramic series of images. Thanks for the surprise Nikon. Perhaps I should read my manual. 🙂
__________
It's time for you to add your current favorite image to the collection. This isn't about having the best shot in the world, or creating the perfect exposure. This is only about you improving your skills one image at a time, and most importantly, staying active with photography.
So, if you have a shot you've created recently that you like, please post it and share. And if you don't, no problem. Go grab your camera, create something and bring it back for all of us to see. You'll be glad you did. 🙂
__________
Here's some SST blog swag and all the nitty gritty details. Also, join us for Project 52 on Saturdays. Can't wait to see what you've been shooting!


[/fusion_builder_column][/fusion_builder_row][/fusion_builder_container]