Tweet
Red Velvet Valentine ~ Food Photography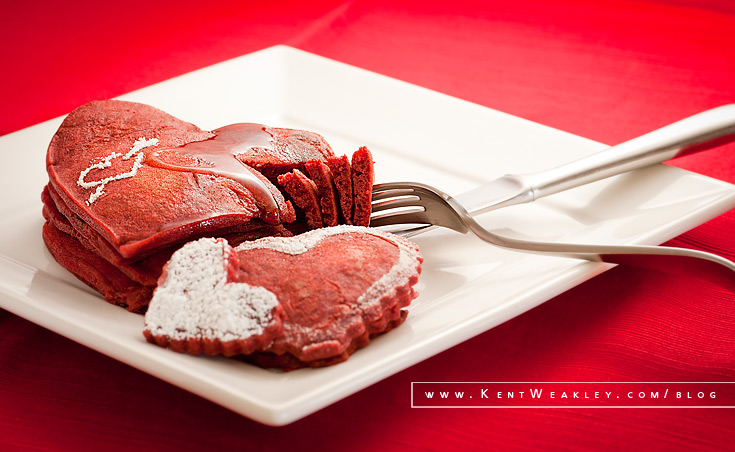 It happens every year. There's a window, about four weeks prior to Valentine's Day, where I start thinking "what am I going to do this year?". There I was wandering around the web one day, just minding my business. I think I was looking at a group of thumbnails somewhere and a close-up of red pancakes caught my eye. Red pancakes?? Wait, they weren't just red, they were heart-shaped Red Velvet Pancakes – BINGO! I know what I'm doing this year!
The next natural thought was, "if I'm going to make these, I might as well photograph them as well". Of course, who wouldn't? Well, probably someone who has something else to do with SIX HOURS! 🙂

So out of bed I went and into the kitchen/photo studio. And I should have known it was really going to take awhile when I started designing graphics on the computer first. I made a couple little powdered sugar stencil graphics in Adobe Illustrator, printed them, spray-mounted them to poster board and carefully cut them out with an exacto blade.
Back in the kitchen, I began to prepare the set. I set this up very similar to the Miso Soup Photo Shoot. I used a very large (4′ x 8′) light diffuser to spread the light. I also kept it very close to the subject. Another important element of the shoot was the little white poster board reflectors placed around the plate. These helped bounce light back under the front edge of the backlit plate.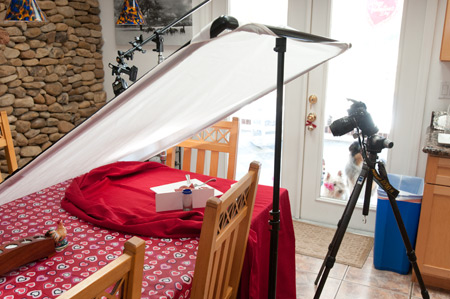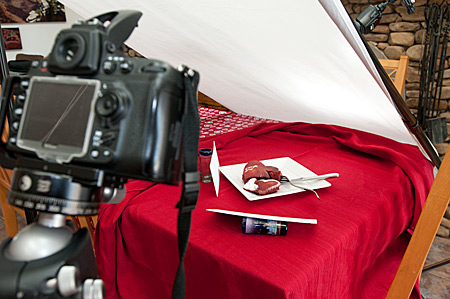 For this recipe I used Jennifer Vagios' Red Velvet Pancakes creation I found online. It was relatively simple, once I realized I needed to thin the batter…a lot. The first batch was made with very thick batter, and the first pancake looked more like a Harry Potter hardcover book, than a pancake. No problem, I added more club soda (shhh! secret ingredient) and all was good. While I couldn't find actual pancake molds, heart-shaped cookie cutters worked just fine.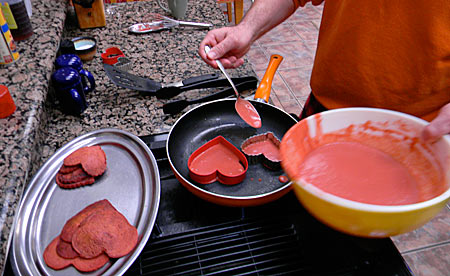 As if buttery chocolate-laced Red Velvet Pancakes weren't enough, it was time to add powdered sugar! 🙂 
OK, what else would go with these? Ahhhh, if you're a faithful follower, you remember…the Autumn trip. Yeap, time to get out the highly-prized, not-so-cheap, 100% natural, World's Best Vermont Maple Syrup! Rationed, of course. 🙂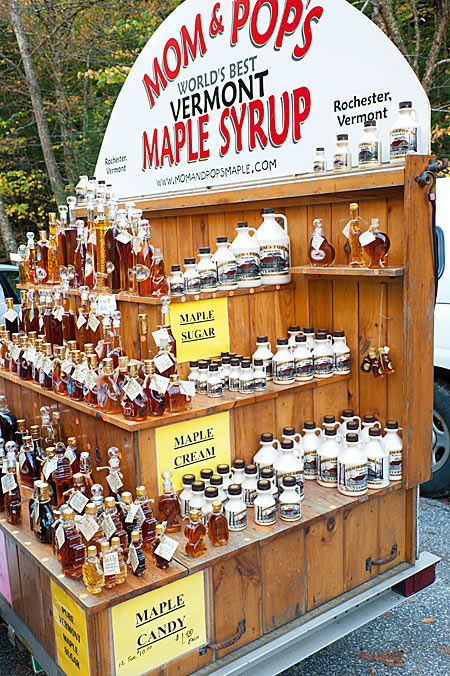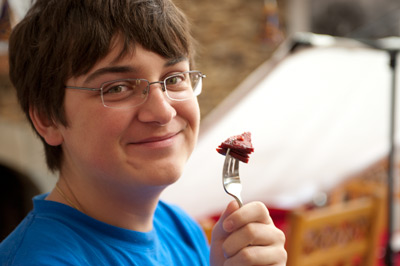 Well the breakfast turned into an early afternoon brunch and had to have been 45,000 calories or more, but it was worth every bite. Thanks Jennifer for the great recipe and solution for this year's Valentine's Day surprise.
Happy Valentine's Day everyone and Happy Shooting!
I need to go for a walk. 🙂