Tweet
What is P52 Sweet Shot Tuesday?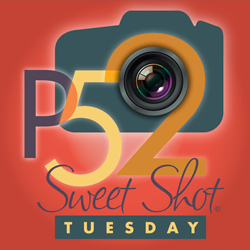 P52 Sweet Shot Tuesday (or Project 52) is a 52-week photo challenge. The challenge is for each photographer to create a fresh new image to share with this community each week.
Click here to view the most recent P52 Sweet Shot Tuesday post
Who can participate in P52 Sweet Shot Tuesday?
Anyone with a blog or web based photo hosting account (such as Flickr) is welcome to join.
How does it work?
Each week, select one photo that you have created during that week.
On Tuesdays I will have that week's post with an linky for you to add your image. Please post your weekly assignment photo on your own blog or your Flickr stream. Copy the permalink of that post or photo and paste it into the inlinkz form at the bottom of the post. You will be prompted to choose a thumbnail. The thumbnail of your image will appear on the P52 Sweet Shot Tuesday blog and will link everyone back to your photo.
You may add an image with whatever artistic license you wish to employ, but images that are abusing the good nature of the project will be deleted. Inappropriate, offensive, or duplicate links will be deleted. Please link only 1 image per week.
As a courtesy for hosting, I ask that you please link back to P52 Sweet Shot Tuesday to help encourage others to participate and grow the community. Thank you for helping spread the word!
Be the encouragement you wish to receive! Please visit other photographers and encourage them to stick with P52 Sweet Shot Tuesday and comment on their images.
The link will go live in the early morning Tuesday, just after 12a.m. eastern time. This is late Monday evening / early Tuesday morning in most time zones. Linky stays open until the following Sunday at midnight eastern time. Plenty of time to participate.
Why was my photo deleted?
I reeeeeeally don't like playing bad cop. So if your images was deleted it was likely because:
you linked to the blog URL or Flickr stream instead of the permalink
you linked duplicate links
someone found your image distasteful or offensive. I get the final call on this.
Do you have buttons for us to use?
But of course! Click here for all the graphics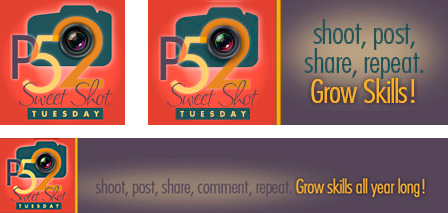 ---
P52 Sweet Shot Tuesday Photo Ideas
Now remember, there are no themes or assignments, you're free to shoot whatever you'd like. However, challenge yourself, create images that are out of your comfort zone, experiment, try different techniques, explore and have fun!
Kids
Pets
Food
Weather
Flowers
Water
Eyes
Sunrise
Chrome
Birds
East
Sunset
Red
Moon
City Lights
Blue
North
Fire
Purple
Toes
Fingers
Winter
Gold
Macros
Popcorn
Favorite Food
Yellow
Orange
Tools
Cars
Planes
Reflections
Moose
Leaves
Rabbits
Summer
Lizards
Kitchen details
Trees
Beverages
School
Playtime
Bridges
Fireworks
Hobbies
Frogs
Candy
Horses
Waterfalls
Cities
Buildings
Lights
Traffic
Spring
South
Lavendar
Babies
Silver
Smiles
Fish
Stars
Spring
Zoo
Park
Rust
Light Painting
Hike
Rest
West
Forest
Running
getting an idea?