Demystifying the Histogram Covers:
Understanding the Histogram
What to watch most on the Histogram
Which areas warn of critical details
Knowing what information the Histogram is sharing
Locating the Histogram in your camera and on the computer
Using the Histogram during your shoot
Why the Histogram beats the thumbnail
Take the guess what out of exposures
Computer editing with the Histogram as your guide
Edit with precision, quickly, and easily
You Might Be Wondering…
• This is an all-digital eBook with Video links, no printed material to clutter or pollute.
• This eBook is geared towards any photographer, beginner to professional, that needs to understand the power of the Histogram.
• For best interactive viewing of this eBook, use the free app Adobe Acrobat Reader.
• This eBook can be viewed on any computer or device that can browse PDF files
• For best results, download uncompress files on computer first, then transfer PDF to other devices
• In order to view videos, you will need internet access.
• If you have any questions about this eBook, please email me direct.
Guaranteed Knowledge!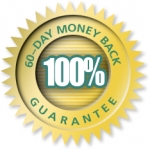 If you are not happy with Demystifying the Histogram within 60 days, I will refund your money. If you're looking to learn the fundamentals of the Histogram, I'm so positive this eBook will work, I'll return your money if it doesn't. It's that simple.