Tweet
Photo Tip Tuesday ~ Patience and persistence in more ways than one.
I must say these photos made me a bit crazy, for a couple reasons. First of all weather, and second, why shoot it at all? I'll explain.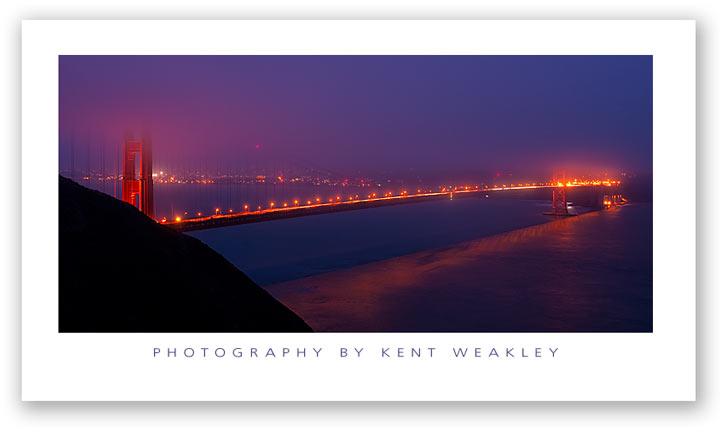 ISO 400, f/11, 4 seconds with 28-70mm f/2.8 lens at 42mm
The first reason is easy. Our family vacation, let me re-phrase that, our crazy-cool-extreme-family-vacation last year included Seattle and San Francisco and about 30 other amazing places. And yes, we drove from Florida the whole way. When we passed the half-way point of our trip and landed in San Francisco in July, we quickly learned that fog also visits San Francisco EVERY July too. I was able to get the blue hour shot above. It was OK and I was content for the time being. We tried shooting other places like Pigeon Point Lighthouse and got nothing. We actually drove right up on top of the lighthouse before we saw a faint ghost of the structure. Fog and weather is great for making interesting photographs, don't get me wrong. This was just gray blahhhh!
Problem number two – why shoot this overshot iconic, everyone's-already-done-it-bridge? As I scouted locations on Google Earth and viewed countless images of the bridge, an inner voice said why are you doing this? Personally, I know professional photographers that wouldn't be caught shooting something so touristy or trivial as this. As an artist I always strive for coming up with something different, unique, inspiring. What exactly was I trying to achieve?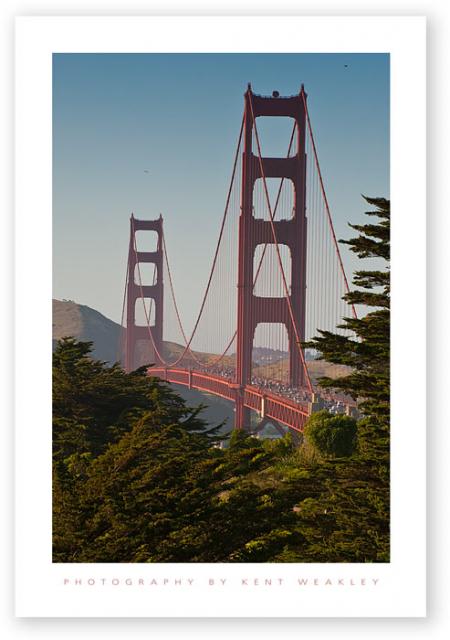 ISO 200, f/11, 1/320 sec with 70-200mm lens at 155mm
Well, as fate would have it, I had an opportunity to visit San Francisco again this spring. My son who is an amazing inventor, builder, and creator convinced me to take him to the annual Maker Faire convention in San Mateo, CA, just south of the city. [As a side note, it is truly an amazing weekend if you're even remotely into building and making things. Check out a video I put together that encapsulates a part of the event.]
My first photographic thought after deciding to go back to San Francisco was…the Golden Gate Bridge. I pondered the two problems again and did my research. Everything was saying that the fog starts to roll back into the city around May…rats! Can't control that, so onto scouting sites. With the fog so persistent on the previous trip in July, we didn't even see many of the locations I had planned to shoot the bridge from. I made my list of potential shooting spots, but still had that thought, "why shoot this thing?"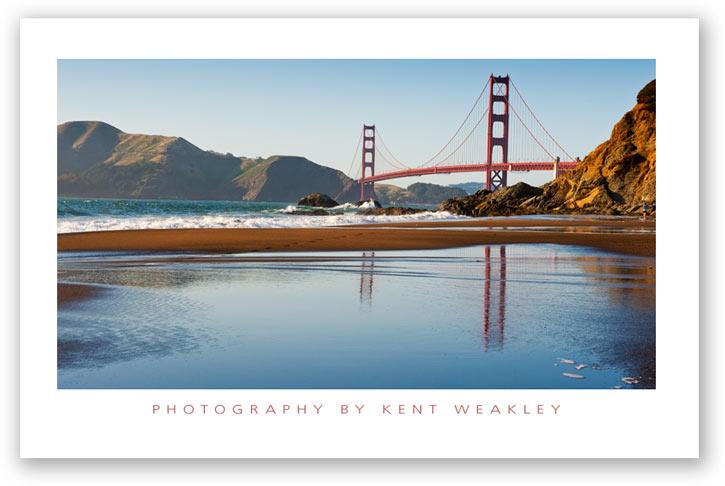 ISO 200, f/11, 1/320 sec. 28-70mm f2.8 lens at 65mm
Methodically, from 2400 miles away, I watched the weather. It wasn't looking good, then a big storm was to arrive the night before us. Could it be? Yes, a nice rain storm plowed into San Francisco the night before our arrival, leaving the sky crisp, clean, and…wait for it…CLEAR!!! We landed, got our car, checked into the hotel, and drove to the Golden Gate Bridge. There she was shining in all her golden orange beauty. We ventured down to Baker Beach (above image) and contemplated a sunset shot there, but the Photographer's Ephemeris was spot on and the sun was too far to the north. We loaded up and headed to the north side of the bridge.  There we got to see the bridge bathed by the sun (image below) and we waited and watched as the last ounces of light shined blue in the evening sky.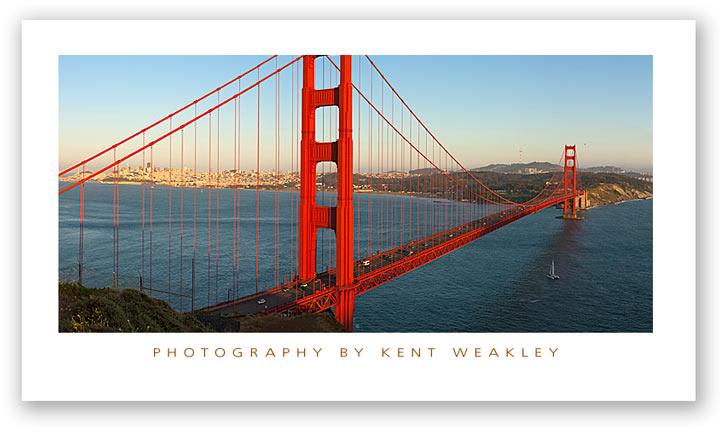 ISO 400, f/11, 1/320 sec, 28-70mm 2.8 lens at 40mm, stitched
It was then when it all became clear. Yes, this bridge has been shot hundreds of millions of times, and deservingly so. Are my images the best? No. But most importantly they are my connection with this experience. When I "make" a photo and take my time, I allow myself to absorb the experience a little more than just clicking and moving on. And as "driven" (other people may have other terms) as I am, it saying a lot for me to take my time and slow down.

Looking at my time with the bridge, I think many things are happening here. On a primal physical level we are naturally drawn to the opposite contrast of orange and blue and of course the scale of this amazing creation. On a human level we are standing in front of a feat conceivable by only a few. As an American patriot and lover of history, I can't help but imagine the men hanging from this structure forging it into shape. The thrill and pride they must have felt at the end of each day, not to mention the fact that they were able to bring food home for their families during that trying time in our history. It all became clear standing there behind my tripod. This is a shining example of the unstoppable human brain/mind over matter. To some it's only a big chuck of metal and a whole bunch of needless photos, to me it's the power of human ingenuity, triumph, perserverence over an obstacle. The Golden Gate Bridge stands not as towers with a roadway, but as a message to all that anything, absolutely anything, is possible with patience and persistence.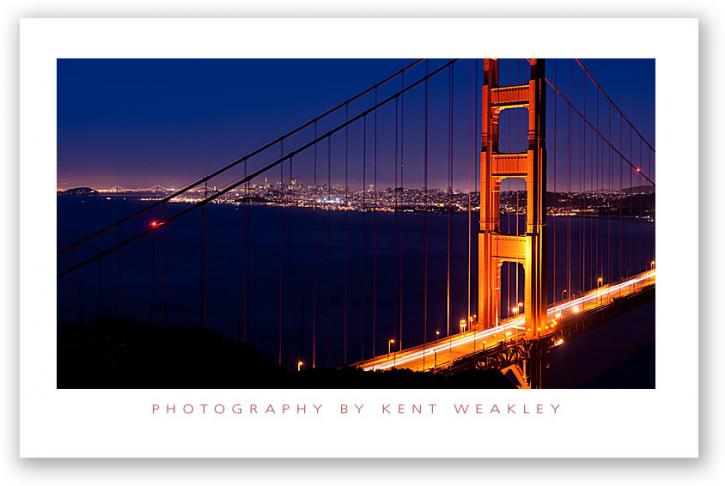 ISO 400, f/8, 5 seconds, 28-70mm f2.8 lens at 48mm
Photo tip, you ask? OK, I admit this one is a little more abstract, but not really. If you think a photograph is worth "making", do it. Don't let weather, people's opinions, a couple thousand miles, or your inner voice stop you from creating what your mind's eye sees. And don't just make one image and stop. Look at all the possibilities, explore. After all photography is an adventure, if you let it be.
Am I done shooting the Golden Gate Bridge? No. If I get out to the left coast again, I will shoot it again. Why? I will let one of my all-time favorite quotes answer this question, "an artist is a creature chased by demons, he knows not why they chase him, and he's usually too busy to wonder why" ~ William Faulkner. By the way…we're all artists.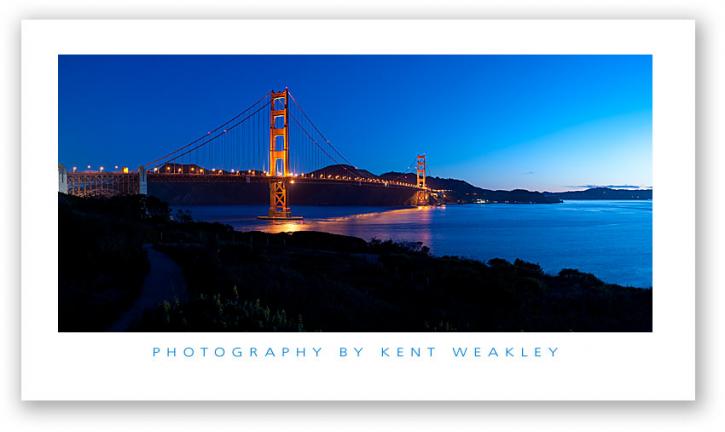 ISO 400, f8, 5 seconds, 28-70mm f2.8 lens at 62mm
[/fusion_builder_column][/fusion_builder_row][/fusion_builder_container]