Tweet
What Photo Students Are Saying About the Photography eClasses
I can talk about the next Photography eClass until the cows come home. And since I don't own cows, that might be a very long time. 🙂
Instead I'd rather share with you what students who have taken my eClasses have to say:
---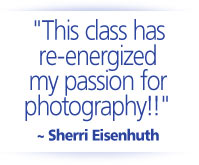 "For me it made some mysteries of photo making disappear. Some of it was like giving away secrets to magic tricks! I loved it!" ~ Anonymous
"Kent's knowledge and resources helped me get some really magical night shots. I've attended workshops and paid hundreds and even thousands. I can't believe this workshop is less than $100! What an incredible investment in my pursuit of photography." ~ Darcy
"The clear explanations from reading AND the videos really helped. I'm so visual that I needed both for my brain to make it click. Your way is soooo much better than just reading black and white. Thank you!!!" ~ Susan Downs

"Excellent learning experience with practical application of the new material exhibited. Little secrets given to enhance your knowledge of photography." ~ Anonymous
"Well written and the video segments were well spaced to impart information that could best be delivered on video."
~ Bob Gallagher

"If I hadn't discovered you on twitter and "followed" I guess I wouldn't know what I've missed. Love the night class! Have told my friends. Have blogged about it and tweeted about it. I know you'll have friends of mine in future classes.  I have taken other eClasses that cost 4 and 5 times more than yours and have not learned 1/4 of what you have already given us. You're not charging enough, seriously!" ~ Ken
"You know, my favorite teacher was my 3rd grade teacher, Ms. Sliffe and I think you may have just bumped in front of her…shhh, don't tell! (0:" ~ Meg

"I never knew about blue hour before I signed up for your course. The explanations you provide on your site are very well explained, and the graphics and videos help visualize the concepts. I'm so happy that I decided to sign up." ~ Ann
"I need a lot more practice and many more classes, but I feel like taking your class has put me miles ahead of other newbies. It was exactly what I needed! Thank you!" ~ Brooke M

"Hi Kent, thank you so much for this class!! This is the second one I've done with you, and I've learned a lot with both of them. What I like is that you make it easy to learn…and FUN!!!" ~ Kelli
"I've already sung your praises several times on my blog and will continue to do so. Your teaching style is so helpful and I even get a kick out of the bits of humor you sprinkle throughout the lessons. 

 Thank you so much for all the work you put into this class. It has been a great blessing!"  ~ Shelli

"I've really enjoyed this class and it definitely took me out of my comfort zone in the beginning but I think in doing so it really opened the door to me learning so much more and trying new things that I may not have considered before. Thanks so much!!!" ~ Cathy
"Thanks again for another fun class! With the night photography class and this one you have given me more confidence and better photos!" ~ Kat

"Thanks for a very enlightening and enjoyable course. I look forward to the next." Regards, Karen.
---
eClass Members online examples
Blue Hour Flickr eClass Student Work Gallery
Moon and Stars eClass Student Work Gallery
Light-Painting and Abstract and Motion Lights at Night eClass Student Work Gallery

Photography eClasses by Kent Weakley
Sign Up for a Photography eClass Today