Tweet
Frequently Asked Questions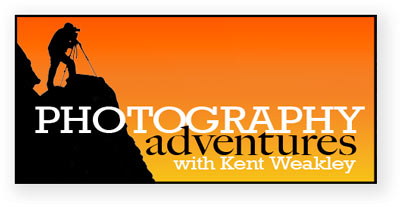 What kind, and how much, equipment should I bring?
Bring it all if you can! Your DSLR, tripod, and a nice mix of lenses or a couple zoom lenses at a bare minimum should be with you at all times. You never know what you might see and have the opportunity to photograph. It's always better to go into the field with too much gear, rather than miss an opportunity because of not having the right equipment. Our vehicles usually won't be very far, so you can always leave something locked in your car if it's too much to carry.
What should I bring? What is required?
All workshops require a Digital SLR camera and a tripod. Filters (Polarizer & Graduated ND ) and a shutter release cord are not required, but highly recommended.
Bring a laptop if possible, as we will spend time, when not in the field, reviewing and critiquing images and talking about imaging software.
It is advised for you to dress in layers, as all workshops are held on location and often temperatures and conditions can change rapidly.
Food and beverages will not be provided (except where noted), so please bring plenty of water and nourishment.
All students are expected to arrive on-time and to work together as a group to learn, not only from instructors, but also from each other.
Is transportation provided?
Each student is responsible for their own transportation to the workshop location. However, car-pooling during the workshop is encouraged both to minimize the number of vehicles at shooting locations and to get to know each other.
Can a non-photographer friend or spouse attend the workshop?
Non-photographer friends and/or spouses are welcome to attend, but will be subject to the full tuition fee due to transportation and space availability.
Does weather ever alter or cancel events?
We will alter plans if conditions are unsafe. It is important to note that poor weather can make for dramatic photographic opportunities, so if rain is forecasted, pack a light jacket or rain poncho and bring something to keep your camera dry; shower cap or small umbrella work well.
What happens if I have to cancel?
Because of the limited number of workshops and availability of one-on-one instruction sessions, once we reserve your spot, it won't be available for anyone else, therefore we can not offer a refund unless the cancellation is 60 days before the workshop date. This policy is necessary to assure us that those who sign up are serious about the adventure and will not back out, ruining the opportunity for someone else. However, there is an exception to every rule. If, for some reason a workshop or one-on-one is cancelled by its instructor, you will be entitled to a refund, or may choose a credit for a different date.
Get ready to think and photograph differently!
Photography Adventures with Kent Weakley workshops will help you develop skills, learn techniques and get to know your camera and equipment like never before. As a bonus, you will have a fun time and build friendships while learning to improve your photography technically. The end result? You will most likely find yourself thinking about and making photographs differently with more thought and more passion than even before.