Tweet
Photography Tip ~ Never Stand Still
On a recent photo scavenger hunt, I needed to make a typical, "OH, I've got to shoot that" U-turn. I pulled into a little side street, made a cramped turn-around and waited to re-enter traffic. As I checked to the left, a sign caught my eye. In the last couple years I've started collecting sign photos and this one looked like a good addition. On a quick second look, this sign had much more going for it. It smacked of burning irony, it hung as a rusting metaphor for the very company it promotes.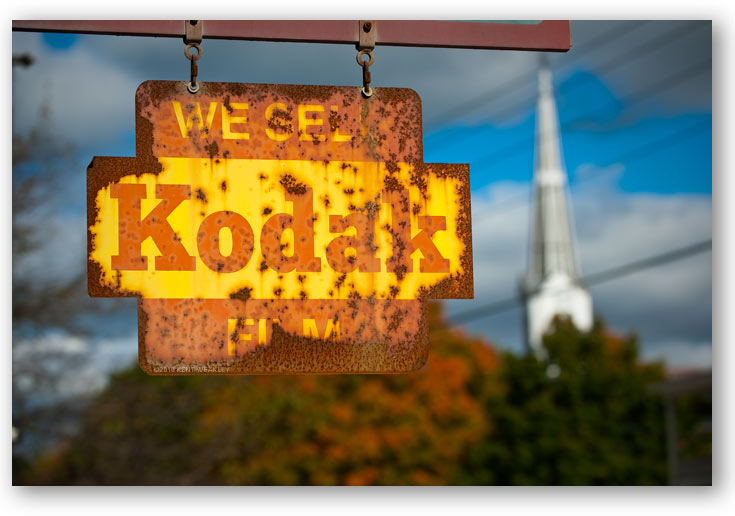 The weathered and aged pit marks peeling up the logo strike as the ultimate symbolism for what has become of this American icon, Kodak. Leading the photography world for well over a century, this giant has taken a turn that may be impossible to recover from. The turn taken was not to embrace the "new" digital photography reality early on and take the lead. Instead, for whatever reason, Kodak chose to stick with the status quo. People will always need film, won't they?
I really don't know why they did what they did. Was it poor management, an internal power struggle, or pure stubbornness. Why did Kodak not see the inevitable future, I don't really know. It doesn't really matter, as it's not the point. I don't have anything against Kodak. But, I couldn't help but see the message in this sign.
Most of us aren't multi-million dollar corporations, but we can all take a valuable lesson from the actions, or lack there of, by Kodak. If we stand still and become complacent, we will be passed up. We will become irrelevant and virtually obsolete. You might be asking, What are you talking about? Apply this lesson personally to your photography.
Ask yourself some tough questions:
Portrait Photographers – Are you giving your clients the best photo packages you can offer?

Parents – Are you capturing all the moments you want to remember and share well into the future?

Photography Enthusiasts – Are you learning and challenging yourself to try new subjects or techniques?

Photography "Specialists" – Are you learning what others in your field are doing and what directions they are going?
The point is simple, don't stop learning, growing, changing. The only thing that is constant is change. You don't need to be an industry leader, or a trend-setter, you just need to step outside your comfort zone every now and then. If we stand still and stop experimenting or taking chances, we risk becoming obsolete. Take a class, learn an new technique, read a book, shoot a subject you would have never considered, try something new, and NEVER STAND STILL! You WILL rust!