Tweet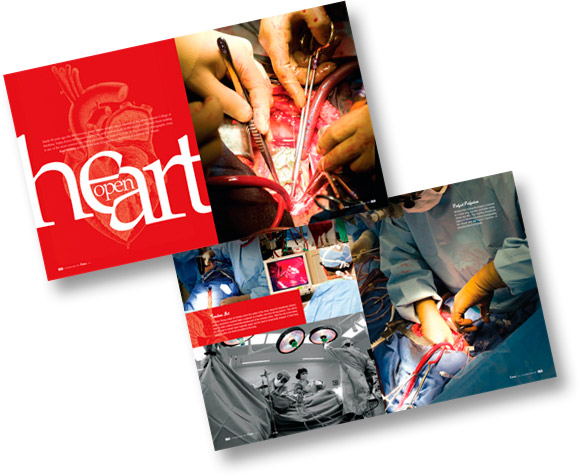 I enjoy the idea of the unknown. That's what it so thrilling about shooting magazine stories. You never know what tomorrow brings. The question was, "how would you like to shoot an open heart surgery?" My mind simultaneously said "WOW" and "WHOA"! The answer was definately, "YES!"
This shoot was about staying out of the way and being an observer more than a director. I wasn't going to be able to say, "OK, looks good, but can you stand over here and can we move these lights here, etc." Not to mention, how was I going to hold up. Having memories of passing out on a high school social studies field trip to a funeral home, was not reassuring.
It was light that saved the day again. How? Well it's simple, good photo equals good light. I wasn't able to get my lights in place effectively with everyone moving around and doing their thing. I was forced to work with the available light — the blinding 3 trillion watt overhead surgery lamp. Add to that the pin-point head mounted LED lamps on the docs which made for light spilling everywhere. The intense light made me really work the camera. Trying different exposures, negative compensation, anything it took to get the lit areas to not blow out and not letting the shadows go black. With all this going on, I had very little time to think about this man's heart exposed merely inches below my camera. Yeah for light! 🙂
I must say this was an amazing experience to behold. The team of doctors led by Dr. Chung at Munroe Regional Medical Center (MRMC) truly worked like an orchestra. It was shocking how little was said and how much was anticipated through all the procedures.
Thanks to everyone at MRMC for their help and cooperation. The whole experience was very memorable, and I think I will be exercising and eating even more salads from now on. View the full article here.[/fusion_builder_column][/fusion_builder_row][/fusion_builder_container]