Tweet
Are You Letting Your Photography Be Framed?
Many years ago at an art show, I was tending my photography booth and people watching. Across a walkway I spotted this lady. She was quite easy to notice with a couch pillow under her arm and holding out fabric swatches high in the air at arms length. I watched as she moved closer and then it became clear what she was up to. She was actually looking for artwork through the filter of needing to match her new couch.
Luckily she didn't come near my art, as I was lining up a string of possible comments that I do think I would have unraveled on her. I couldn't help but think, 'What would someone like Picasso say to her?' Or perhaps Homer, VanGogh, Hopper, or Dali. Oh, Dali would probably make a beautiful piece to perfectly match that couch with the most unbelievable hidden and hideous messages for that poor woman.
The whole experience got me thinking, while not as bad as the swatch welding art consumer, photographers do the same thing very often. You know how it all starts, 'Well I have that frame over there that I'm not using'. And before you know it you're in Photoshop cropping a perfectly good image to make it fit that frame. Or worse the print has already been made and the scissors come out to make the fit.
It all seems harmless enough. Perhaps, but as an artist I think we need to look after our creations with a little more care and importance. Our ideas need to be the foremost message to the viewer. And as a matter of fact, the frame should only be there as a compliment to the art, never as the art itself. And never dictating the size or proportion of our image. Or at least that's how I feel about it. 😉
If we wander around thinking our images need to fit in an 8″ x 10″ or 16″ x 20″ frame we might as well just go buy a pretty picture perfectly sized and ready to go. On the other hand, if we go out to make a creation that meets our imagination and satisfies our artist soul and that creation just happens to fit in an 8″ x 10″ frame, then that's a different story. That is the difference between letting your art be framed and creating art that happens to be framed.
This has all come to mind lately as I've had the opportunity to create some pretty satisfying pieces of art that could be called anything but traditional. Perhaps you've seen my infrared black and white photographic life-sized horse, or the custom elliptical collage of 'My Tree', neither creations come even close to having a standard frame.
And most recently I've designed and produced another infrared black & white image to be displayed in a client's home on their window. Well, let me make that clearer, it is their window. This room has very little wall space and they wanted the window, at the center of attention, to be converted into a work of art.
Our community does an arts fundraiser call "Artist Within" where an artist is paired with a community leader and they work together to produce a piece of art. I've participated and worked with some fantastic people through the years. This year, my longtime friend Laurie, stepped forward to have the opportunity to work with me.
The original idea was to find the perfect antique armoire and create photographic panels to blend with the cabinet. As time ticked by and no armoire appeared, it was clear we needed to go a different route. We downsized the cabinet portion, which I built, and focused on the photography. We decided on a high-end commercial photo shoot look for the photo panels and a simple sleek design to the cabinet. Several weeks (and numerous bottles of vino) later the cabinet was complete with blue LED lights custom installed by my oldest son. Later at the fund raiser I was told by Laurie's recent college grad daughter that the piece looked like it was straight from a bachelor pad. Yes! What a compliment! I've still got it. LOL 🙂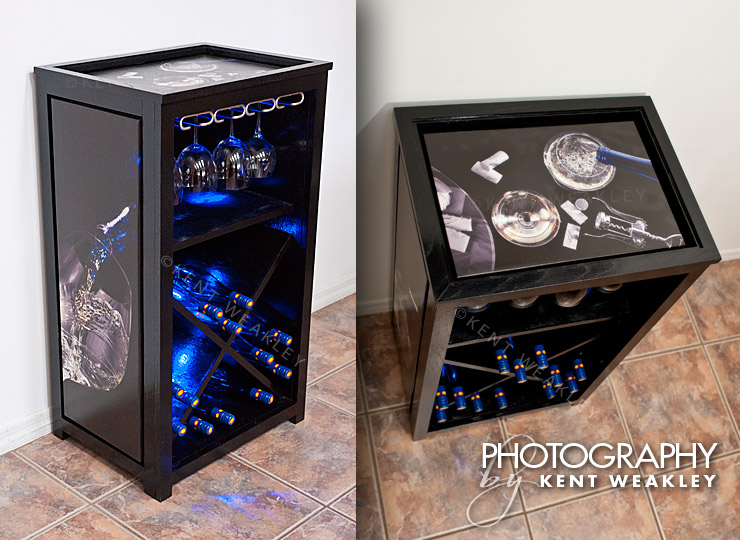 Now with all that huffing and puffing, of course there will always be the need for a traditional frame. But remember, it's the photography that must come first and be allowed to sing. Everything else comes second. Whatever border or container holds your creation, it needs to harmonize with the overall melody.
So, now tell the truth, have you been guilty of making your images fit in a frame instead of having a frame fit your image? 😉