Tweet
Landscape Photography Lightroom Presets and Tools by Kent Weakley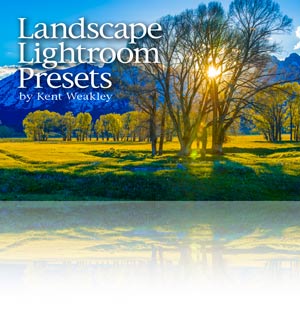 Landscape Photography Lightroom Presets and Tools by Kent Weakley
Over eighty, That's EIGHTY Presets and Tools designed to make your landscape photos come to life!
These custom Landscape Photography Lightroom Presets are designed to help make your Lightroom image processing quick, simple, and fun. Save hours of time by instantly and effortlessly viewing options for your final image. Instead of fiddling with settings individually, jump to complete looks quickly by selecting from the numerous pre-designed and carefully developed Lightroom Presets crafted specifically for landscape scenic images.
This collection of over 80 Lightroom Presets and Tools, which are compatible with Lightroom 4, 5, 6, and CC, include 45 complete and ready to use base presets. In addition to the foundation presets, you will also receive; 12 Quick Exposure Presets,  5 Instant Sharpness Presets, 7 Custom Vignette Presets. In Addition and as an ADDED BONUS, you will also receive ELEVEN specially designed Landscape Gradient Tools to help fine tune your images.
Use the Landscape Photography Lightroom Presets to quickly achieve the look and feel you're going for, or as a starting point to continue tweaking your image as needed. Landscape Photography Lightroom Presets and Tools by Kent Weakley will save you time and make photo processing fun and enjoyable!
Complete Landscape Photography Lightroom Preset and Tools Collection Includes:
45 Custom Base Landscape Presets
12 Quick Exposure Adjustment Presets
5 Instant Sharpness Presets
7 Custom Vignette Presets
*BONUS – PLUS Eleven (11) Graduated Filter Tool Presets
The 45 Base Landscape Presets Include:
Antique Copper
Antique Sepia
Antique Stone
Bahama Blues
Blue Ballet
Blue Pop
Bright Shadows 1
Bright Shadows 2
Bright Shadows 3
Bright Shadows 4
Brooklyn Sky
Chroma Crisp
Chroma Landscape
Chroma Plains
Chrome Rim
Cool Monochrome
Cool Waters
Desert Glow
Dreamscape
East Glow
Family Vacation
Forest Mist
Golden Monochrome
Golden Sunrise
Harbor Glow
Hollywood Haze
Maine Mist
Miami Morning
Monumental Sky
Niagara Teal
Pebble Beach
Seaside Mist
Shaded Lane
Skyline Pop
Stoic Beauty
Stone Arch
Summer Day
Twilight Punch
Urban Crisp
Urban Glow
Urban Mono
Urban Stark
Vegas Chroma
Vintage Chrome
Wooded Cabin
Landscape Photography Lightroom Presets and Tools by Kent Weakley
Over 80 Custom Landscape Photography Lightroom Presets and Tools
Instant Download / NO Shipping
Presets Loading Instructional Video Included Free
Presets work with RAW and JPEG images
Compatible with Lightroom 4, 5, 6 and Lightroom CC (Creative Cloud)
Compatible with both Mac and PC
TERMS OF USE / LicensingThe Lightroom Preset Products by Kent Weakley are for personal and professional use. This usage license is granted to one single original purchaser. This license does not extend to companies, partnerships,or any other parties and may not be resold, loaned, and/or gifted to another individual and/or party. You may not share, loan, borrow, redistribute, sell, trade, or copy any of the Lightroom Preset Products by Kent Weakley in any manner. All presets by Kent Weakley are copyright protected.