Tweet
Journey With Camera ~ Where It Started
In his 2005 commencement address to Stanford University graduates, Steve Jobs explained how we can only connect the dots looking back, never forward. I've found this to be so true, especially when reminiscing about particular photography experiences that have shaped who I am today.
:: harp scales and cheesy, wavy visual transition ::
I was pushing a mower back in forth on a warm summer day in my parents front yard, when the idea took hold. Being raised with limited resources, I had spent a great deal of time contemplating what to do with a newly acquired handsome sum of graduation money. Could it really be true? Would I be able to purchase the camera that I had only fantasized about before? Yes it was true. Between my graduation gifts and money earned from working, I purchased my first camera, a Canon AE-1 Program. Now, with grass clippings flying every which way, another question floated through my head. Where should I go to make photos? Funny, I didn't ask 'what' as much as I asked where?
Little did I realize then, that the camera was not only a device for capturing images, but also an open-ended ticket to travel, explore, and become an adventurer. The news at the time was filled with the approaching anniversary of the newly renovated Statue of Liberty. As the hum of that little mower drowned doubts, unanswered questions, and certainly disapproving parental units, the details of my first photo adventure solidified. I 'needed' to go to New York City, and while I was out there, I'd might as well see Washington D.C. too.
The day was July 5th, my parents and siblings had just left the driveway for another long trip south to visit Grandma in Florida. It had been determined, without any objection from me, that I should stay home so I could work. (Note to self–don't leave teenagers home alone…ever) With college approaching, at summer's end, I needed to be accumulating funds. Unfortunately, or perhaps fortunately, the country club where I bused tables only had two events scheduled over the next week. I made arrangements for others to cover in my stead. Only a few hours after my family started heading south, unknown to them, I was on the road also, except I was eastbound.
Looking back I would have pulled my hair out if I were my parents. Perhaps I was doing them a favor by not telling them. Oh, to be young and foolish all over again.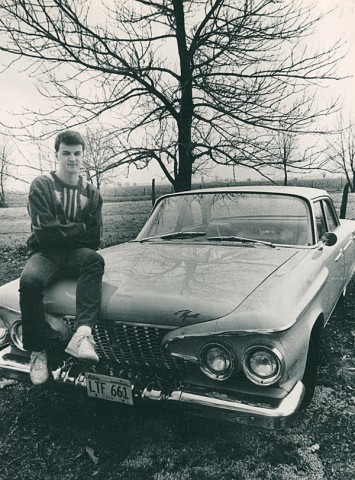 My transportation for this trip was my antique 1961 Plymouth Belvedere. Purchased from it's original owner for $600 cash, my first car had been renovated by me and my father. While it was nostalgic and retro cool, it was also somewhat in love with mechanical repair. Put it this way, if I still had it today, I wouldn't feel safe letting our pets travel in it, let alone any family member…well 'immediate' family members. 😉 It was a perfect first car at the time, and a celebrity.
Responding to a casting call for background cars, I (or rather my Belvedere) was selected to be an extra, or prop, in the NBC TV series, Crime Story produced by Michael Mann of Miami Vice fame. I filmed with the cast and crew in Chicago, over a dozen times at various locations that summer. Little did I know, as I stood by for endless hours, that what I was witnessing was photography lighting 101, and so much more. Giant scrims hoisted onto roof tops defused the blinding afternoon light, and flags blocked intruding reflections. Everything was controlled, calculated, planned, and scrutinized. The attention to details, especially since it was a period series based in the 1960's, was astounding.
Eating dinner and hanging out with actors and crew, including Dennis Farina (a.k.a. Lt. Mike Torello) was surreal to say the least. At one point, on a closed-for-filming section of the Dan Ryan Expressway, Ted Levine drove my car in a scene. Talk about an OMG-out-loud moment years later when he appeared as the psycho killer in Silence of the Lambs. Lol 🙂
Traveling east in my antique-turned-celebrity car with a few dollars saved from those shoots, I was soon separated from a large chunk of my money. Without the aid of cruise control and in the mist of a daydream, I was pulled over for speeding, ironically only a few miles from Columbus, Ohio, where I would be starting college in the fall. After a little persuading, I convinced the officer to lead me to the county courthouse. I wanted to pay this and be done, and I definitely didn't need any paperwork (evidence) showing up at home. Halfway between my goal and 300 miles from home, there was no turning back.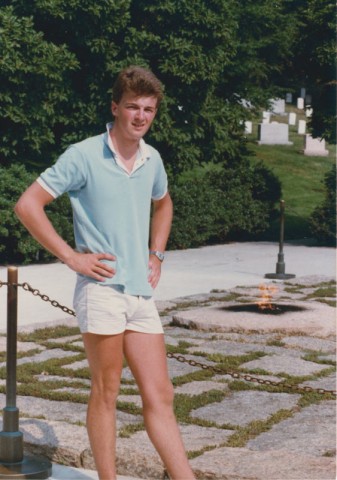 As I approached Washington DC, I marveled how the winding, twisting roads were dictated by the terrain. Having been raised among the square mile, field-lined, grids of Illinois, I had no idea roads could twist that much. 'My Belvedere and I had made it', I thought as I cruised through our nation's capital. Everything was larger than life. I was so excited to be seeing things in person, that I previously never imagined I would ever see. I took roll after roll of pictures.
My image making process then was very different than now. Youth, lack of patience, and snapshot habits learned from others prevented me from making the stunning images I desired. I was taking pictures first to document the adventure, then to confirm that YES indeed I had been there. I was simply taking snapshots rather than thoughtful creations, but I didn't know any better and I was on cloud nine.
The D.C. temperature soared to over 105 degrees each day, and that was before global warming. 😉 It was barely noticeable to me as I glided from one jaw-dropping monument to another. In the evenings, I successfully employed a slightly deceptive plan. With barely enough money for gas, I certainly couldn't afford a hotel. At dusk I searched for hotels with plenty of parking and a swimming pool. See where this is going? Yes…I parked, changed into my trunks in the backseat and swam off the grime and heat exhaustion. Afterwards I returned to my backseat (a.k.a. my hotel room) for the evening. 🙂
With D.C. under my belt, I headed north to the Big Apple. Nothing could have prepared me for NYC. The people, the size, the traffic, the expense, the grandeur. Parking my beloved car for twenty whole dollars could only be topped by the horror of discovering it would ride on an elevator, driven by a parking attendant, to somewhere unknown behind frightening large closed doors.
Trying to forget about my parking experience became easier as I realized I was walking amongst not one or two, but dozens of homeless people in Central Park. They weren't scary or frightening, rather they were interesting. I sat and talked with several and as I did I further noticed their textures. Living on the streets must have been tough, as it showed even through their smile. I had to do it, but how? 'Um, can I take your picture?' the first one was awkward, but effective. They loved having their picture taken. Thinking back I wish I had a DSLR then, so I could show them what I was seeing on the LCD. This was one of the first times I had slowed down enough, placed thought into what I was doing, and deliberately 'made' photos. (BTW – the lady below, photographed in Central Park, had never seen the Stature of Liberty. That still amazes me.)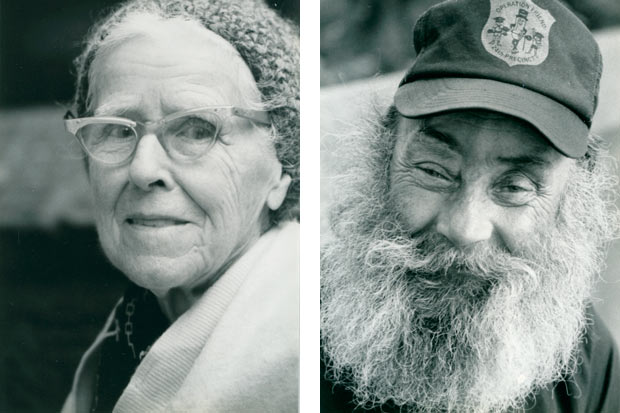 Come nightfall I decide against staying in the city, so I drove back through the tunnel to New Jersey. The hotel parking lot situation there was less than desirable. Hmm…what to do? Ah, the Newark International Airport had a nice sized parking lot, no pool, but definitely parking. Compromising between baking and leaving myself completely exposed with open windows, I opted to crack them just a couple inches. All was fine, until about eleven o'clock when two blinding flashlights illuminated me like the runway nearby. There's nothing like waking in panic, I highly don't recommend it. The officers asked me obvious questions that I had planned for. I meant no harm, as I only needed sleep. "My dad's flying in from Europe and his flight's postponed. He told me to wait in this lot for him," I lied. One of the lights moved down to my bare feet. The corresponding voice said, "uh, it doesn't look like he's going anywhere." And with that, the security guards left me be for the night. That was a very different time, before 9/11 and before every living creature had a mobile phone.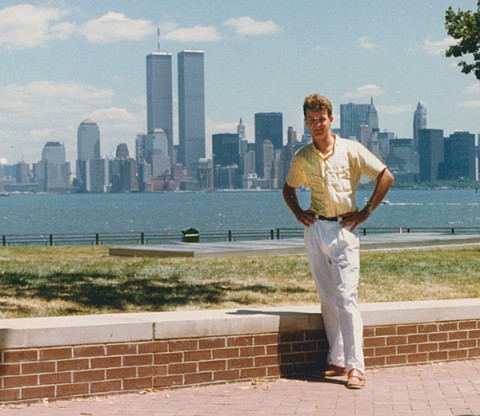 Wandering on foot I visited the Met, Empire State Building, the Whitney Museum, and the Hard Rock Cafe, it was still very cool then, lol. Just outside the Hard Rock Cafe I witnessed an empty parked bus in the middle of the street, it's driver crying behind the wheel. It took my cornfield-middle-America mind a few seconds to put the pieces together; the police, the sheet, the witnesses. He had stuck and killed a pedestrian in the crosswalk only minutes before. That was the first time the full magnitude of travel, risk, being away from home, life, and death really registered. It was sobering and awakening at the same time. I eventually made it to Battery Park and the Statue of Liberty. Her amazing presence cleared my mind of doubt and I was back on track. Nearly two full rolls of film, I had shot of Lady Liberty. It's hilarious to think of two rolls of film as indulging, compared to shooting digital now.
My trip was nearing it's end and I needed to start heading west. Niagara Falls was on my list, but a phone call would divert me away. Somehow I had convinced a couple of my friends to help me with tasks at home; feeding the cat, preparing my little sister's competitive 4-H veggie pizza for the county fair, etc. Something told me I should check in, so I called my friend who was feeding the cat and bringing in the newspaper. First words out of her mouth, "I think your parents know." From Florida they had called the neighbor lady and she happily reported a strange girl coming and going from the house. I was busted. Later I called my folks in Florida and promptly held the receiver away from my ear. Hey, come to think of it, maybe that's why I'm hard of hearing. 🙂
The second part of the phone conversation with my cat-feeding, paper-gathering friend was even more unsettling. Our high school class, which had just graduated merely weeks before, was regrouping the following day. Not for a party or celebration, quite the contrary, there had been an accident. He wasn't a close friend, but he was well known and a good guy that had his life unexplainable shorted by a bizarre drowning incident in a small retention pond. The funeral was tomorrow and I was out of range. The high of traveling and exploring with my new camera was put on hold as I hurried home, knowing I couldn't make it in time.
Hours of thinking and driving had cleared my head and I knew there was nothing I could have done to make it in time. I pulled into my parents driveway, ahead of their return, and much needing a bathroom break from the non-stop travel. As I raced thorough the house something was registering as odd or out of place. There was another one, an oddity, "mirror", "shower", "toilet paper". What the heck? I could only smile as it all came clear. Not wanting to over burden my cat-feeding, paper-gathering friend, I ask another friend, the valedictorian of our class, to construct my little sister's 4-H veggie pizza entry for the county fair. (which, by the way Mom…really?) Being thorough, as I am, prior to leaving I decided to label all the veggie pizza ingredients with little post-it notes. This, apparently was insulting to my valedictorian friend, so in retaliation, she labeled our entire house. And I do mean 'entire'. Post-its were still surfacing many months later. 🙂
Sometimes your soul gives you ideas that at first seem scary, abnormal, or may require different thinking to digest properly. I've learned to listen to these messages because they can hold the most exciting memories I've ever had the joy to experience.
This was my very first well-defined, and very memorable 'photo experience'. Yes, I had taken many photos prior to that, but this was the first time I consciously planned to make photographs. And as Steve Jobs said, I had no idea where the dots would lead from there.
If you found this story interesting and would like to hear more along the connect-the-dots path, please leave a comment and stay tuned, I just might share some more. 🙂