Tweet
Photo Tip Tuesday – What exposure do you use for a space shuttle night launch at Cape Kennedy?
Well, I hate saying there are any set exposure formulas for shooting anything, but this might be an exception. Imagine being in the dark with your camera focused on a dimly lit speck off on the horizon. Within a single second the scene will change to near daylight with the lift-off of the space shuttle. How do you set-up your camera for this situation?
To help answer this question, I asked NASA photographer Ben Cooper: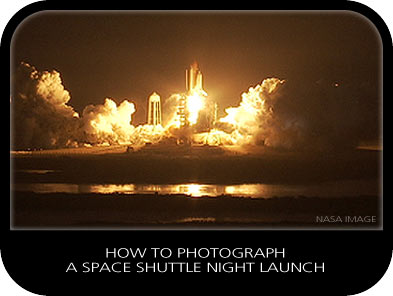 KW: Will a shutter priority, center spot meter set up work for this situation?
Ben Cooper: The light is too intense and centered to use spot metering…the brightness of the flames can hurt your eyes if you look right at it, especially if you are close.
KW: Would a manual setting be best or an auto setting?
Ben Cooper: I have used auto before with decent results but manual is much better.
KW: Obviously shooting across the water from Titusville will require a 200mm lens or better. What would you dial in as a manual exposure setting?
Ben Cooper: I'd recommend ISO 400, f8, 1/250th or 5.6, 1/500th for a DSLR with a 200mm f2.8 or 400mm f/4 lens.
Special thanks goes out to Ben for this valuable tip. Ben is our premier Featured Friday Photographer, so be sure to check out his amazing space shuttle and other cool NASA images.
Photo Tip Tuesday — If you have a photo tip or would like to have a photo question answered, send me an email. Also be sure to subscribe to this blog to receive ongoing great photography tips and inspiration!