Featured Photographer ~ Bob Soltys
Bob Soltys is this week's Featured Photographer.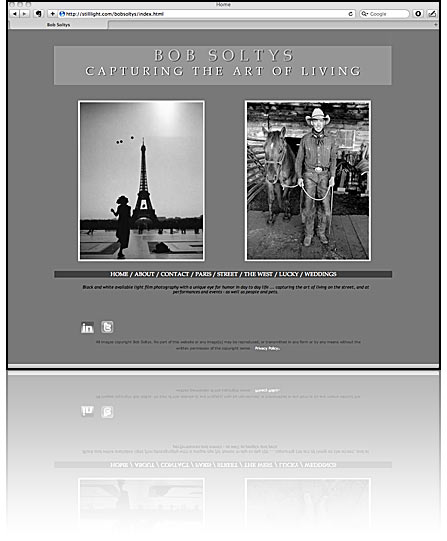 My interest in photography was sparked by Alfred Eisenstaedt's black and white images in The Eye of Eisenstaedt. Not long after reading that book, my aunts gave me a Kodak Instamatic camera for Christmas that I used during family trips and to photograph Robert Kennedy when he came through my home town while campaigning for the Democratic presidential nomination.
Later, as a high school sophomore, my 35mm camera came along when I joined seniors at Lew Wallace High School who walked out to protest a teachers' strike that would have cut short their school year and prevented them from graduating. The Glen Park Herald, a weekly newspaper in Northwest Indiana, bought my pictures, launching a 40-year career capturing people and events on film. Through associations with fellow news photographers, I began shooting weddings.
After years of shooting Kodachrome at the World Series and during trips to Europe and Asia, on a lark I took a roll of Tri-X on a trip to Wisconsin in February 2005 to photograph great grey owls. The black and white images from that trip rekindled my love of black and white photography, leading me to work exclusively with black and white film.
A bout with back and neck pain after an injury while serving as a Navy officer had already prompted me to downsize from countless lenses on several SLR's to just two Leica M6 rangefinders and three lenses. Almost all of my pictures, however, are made with a 35mm 1.4 lens. This has not only simplified my photographic life, but allows me to quickly, quietly and unobtrusively capture magic moments on the street, in diners and cafes, and at weddings.
My approach to photography is simple: keep your eyes open, keep shooting, and keep out of the way.
Many thanks to those for their useful advice, most recently John Rehner here in NorthEast Ohio, Jay Dusard, and Alan S. Chin, with whom I spent a day in the darkroom honing gelatin silver printing skills.
Please add your comments about this photographer. Also be sure to subscribe to this blog for all the upcoming Feature Photographer, Photo Tip Friday, and other interesting photo posts. If you'd like to suggest a photographer, send me their link via email.