Tweet
Julieanne Kost, this week's Featured Friday Photographer.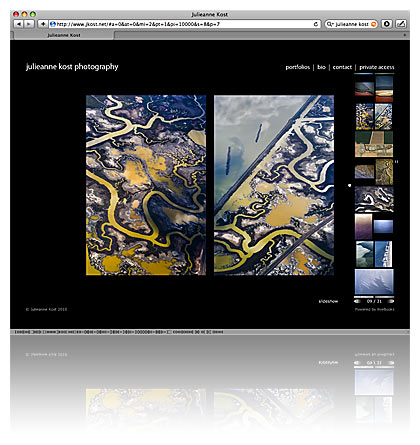 Window Seat: The Art of Digital Photography and Creative Thinking
is a complete view of a creative project from the artist's perspective. Julieanne Kost, a Photoshop and creative thinking guru, has taken her own experience shooting images out of airplane windows to create a unique seminar in three parts: a manifesto of ways to stay creatively alive; a portfolio of stunning photographs, with commentaries describing her experiences and thought process; and a technical appendix that includes the details of the images were shot, manipulated, and prepared for printing.
"In some ways, these images are the byproduct of a necessary part of my job: business travel," writes Julieanne Kost. "I began shooting photographs out of airplane windows because I needed a creative outlet. I was looking for an opportunity to photograph something, but all I had to look at were the insides of airports, cabs, hotels, and convention centers, and, for the life of me, I just couldn't find a way to make those places into interesting subjects to photograph."
In the midst of an experience as inorganic as business travel, this collection of photographs came into existence by a completely organic process. They came about not because Julieanne first had the idea to do a whole portfolio of photographs shot out of airplane windows. Instead, she was moved to shoot one photograph, and then another, and then 3,000 more over the course of five or six years.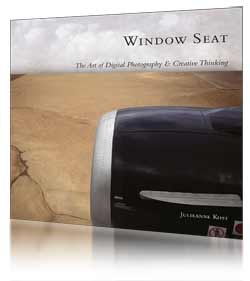 Her book, Window Seat
, is the documentation of that process, from start to finish.
A few more Bonus links for more info on Julieanne:
• Here Julieanne gives a great Photoshop How To for improving a sky scene.
• Interview with Julieanne about her book
• And lots of media reviews and quotes about her book Window Seat
Check out Julieanne's photography online and learn more about this inspiring and motivating educator and creator.
Please add your comments below. Also be sure to subscribe, for free, to this blog for all the upcoming Featured Friday Photographers, Photo Tip Tuesday, and other inspiring photo posts. If you'd like to suggest a photographer, send me an email.
[/fusion_builder_column][/fusion_builder_row][/fusion_builder_container]