Tweet
The little graph that appears on the back of your camera is called the Histogram. Have you:
Wondered what it was?
Been using its full potential?
Turned it off, out of confusion?
___________________
Well, this eBook is about to open your eyes to the power locked within that simple looking graph.
Demystifying the Histogram eBook will help you:
Learn What Is A Histogram

Locate the Histogram

Understand What It's Saying

Adjust Your Exposure Based on the Histogram

Edit Your Photos with the Histogram
___________________
Unfortunately, many people don't realize the Histogram

is their very own
Personal Photo Coach!
And the best part is that it is available to offer advice for every single photo you make. All FREE of charge.

Not sure if you've set the "right" exposure?
Once you understand what the Histogram is telling you, you'll be able to adjust your exposure to fit your desire. Start making the images you want with the exposure that is right for you!
___________________
EXAMPLES!
This eBook includes dozens and dozens of example images with histograms. Learn first-hand why a particular image creates a unique histogram.

---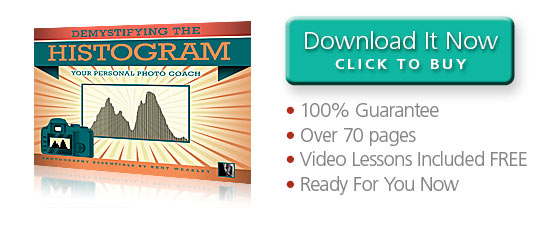 ---
Demystifying the Histogram Covers:
The Histogram Defined
Understanding the Histogram
Knowing what information the Histogram is sharing
Locating the Histogram in your camera and on the computer
Using the Histogram during your shoot
Computer editing with the Histogram as your guide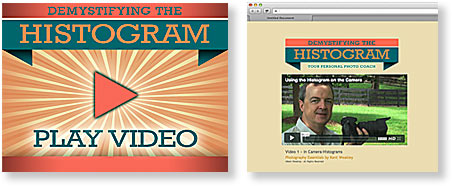 Video Bonus!
In addition to the information-packed text, graphics, examples, and supporting images, you will also be able to view videos which help further demonstrate various points throughout this eBook. This is a digital eBook that is ready for you to downloaded right now. Inside the eBook you will see "Play Video" video linked buttons. Simply click the button and you will be directed to a web page with that video. You do need to be connected to the internet to view the videos.
---
Guaranteed Knowledge!
If you are not happy with Demystifying the Histogram within 60 days, I will refund your money. If you're looking to learn the fundamentals of the Histogram, I'm so positive this eBook will work, I'll return your money if it doesn't. It's that simple.
---
You Might Be Wondering…
• Yes, this is an all-digital eBook with Video links. There is no printed material to clutter or pollute.
• This eBook is geared towards any photographer, beginner to professional, that wants to understand the power of the Histogram.
• For best interactive viewing of this eBook, use the free app Adobe Acrobat Reader.
• This eBook can be viewed on any computer or device that can browse PDF files, including the iPhone, iPad, Droid, Netbooks, etc.
• For best results, download uncompress files on your computer first, before transferring PDF to other devices
• iPad users can upload the eBook to iBooks and browse within the iPad iBook reader (as well as other PDF apps)
• All videos are recorded in beautiful HD quality and can be viewed full screen, if desired.
• In order to view videos, you will need internet access.
• If you have any questions about this eBook, please email me direct.


---
Who Is This eBook For?
• Anyone who has considered or is curious about using the Histogram to improve their images
• People wanting to create images that better match what they desire
• For those who have been confused about the Histogram in the past
• If you are interested in learning how to make the Histogram YOUR PERSONAL PHOTO COACH, this eBook is for YOU!
---