Tweet
The day was long and the sky dark when finally the pressures of the event began to wane…
When I started, I had no idea what scoutmasters before me went through. I don't think anyone really understands until they are actually doing it. Doing what you might ask? Playing boy scout troop guide, chaperon, guardian, shepherd, referee, negotiator, advisor, parent, persuader, knot instructor, first aid provider, good cop, bad cop, cook, maid, instruction reader, problem solver, chauffeur, etc., etc. Now this might sound as if I'm complaining, I am not. I do confess at times I have fantasized about the easy way out, just saying "no, I can't".
Each event from afar I look forward to and get excited, just like the boys, then come the responsibilities, the lists, the contacts, the paperwork, the coordination, the delegation, the questions and some of the answers. It all starts to build into this creature that has a mind of it's own. But then the event comes and other adults help out and the plan starts to unfold and the preparation reveals its value. Checks start adding up and remaining items are few. The air is lighter and more playful and then I find myself just another kid at camp.
This is exactly what happened last weekend. The tasks were all complete and the campfire was warm. Kids chatted and giggled and the pressures were none. With a deep cool inhale it was a moment to remember, the reason for all the fuss. I hadn't taken a photo! The thought crossed my mind. Not one all day. There wasn't a single moment to even think about it. Well I was thinking about it then.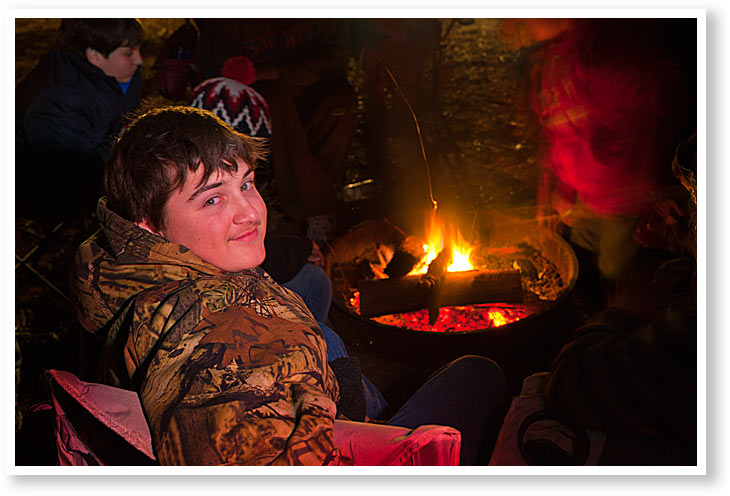 My 13 year old son, Max, is the troop's Senior Patrol Leader and (perhaps unknowingly to him, I believe) commands a great deal of respect from the other troop members. But at the same time, he has no problem posing and working with me to make this light-painted shot, with all his buddies gathered around. After several shots, an uncontrollable smile comes across my face as I click away and realize how special it is to have a teenager who still acknowledges me, not to mention, permits photos (repetitive photos).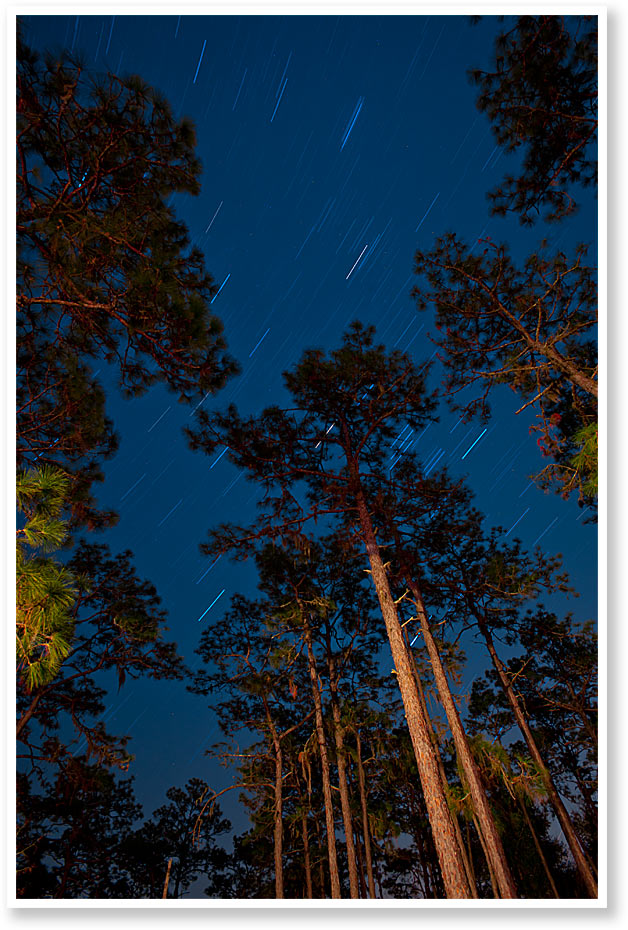 Not wishing to push the opportunity too far I begin to return the camera to the shelter of the car. It's funny how when you're in the warm glow of a happy, thankful, moment, things just seem to come to you. There it was overhead. The warmth providing clouds had departed and universe stared down from a high. Add our lanterns, which were providing an ever so delicate light on the pines. Time for one more shot, or perhaps seventeen. The long exposure time and the distant laughter of developing young men really provided time to think. The one and only thing that kept coming up was – thankfulness.
Here's what I was at the time, and still am, thankful for:
Cool air and warm fires

Boys given the opportunity to lead

My confident, humble, responsible son being with me

The vision of Lord Baden Powell

Sleeping bags with temperature ratings

Adults who step up and help out with their children

Being given the gift of creativity

Children's laughter

Being able to capture some of nature's beauty around me in a photo

Having a decent image for this week's

m3b P52

The Boy Scouts of America

Layered clothing

No bugs in winter

Childhood

The fact that no boys would be roaming around after lights-out, because of the cold

The very special parent who brought both hot coffee and donuts at 6:30 a.m.

More hot coffee

Our nice warm home

My wonderful wife who does everything to make our house a perfect home

Long hot showers

Our clean (fresh smelling) bathroom

Warm homemade soup and grilled cheese for lunch

Sunday afternoon naps (with extra blankets)

and the great people that read this blog!