Tweet
Autumn Photo Adventure ~ Part 2
If you read Autumn Photo Adventure ~ Part 1, you know that the first part of this trip was heavily immersed in leaf-filled landscapes of Vermont. We had heard from a fellow photographer about a good town a bit further north. It was only mid-morning on a beautiful clear, bright Sunday. We decided to explore a bit and see what lie ahead. Before we made it to the edge of town, it was clear we had found the recommended location. A rolling valley spread before us that seemed to reveal miles of terrain. Everywhere we looked we saw nothing but blazing orange and red leaves of fall. Immediately I slowed the car to a near crawl.

(click to enlarge photo above) I know this sounds strange, but I think if the leaves appeared like this all year round, I still wouldn't be able to shoot enough of these scenes. So to limit this to only a few hours, was somewhat frustrating and overwhelming. We simply moved forward with open eyes and worked with what we had, great scenes in great light. I slowed down and excepted the fact that I couldn't possibly capture all the beauty. Then and only then did I begin to enjoy the nature that unfolded in front of us.
A stunning red barn was visible from across the valley. As we approached, it was obscured by trees and eluded us for several minutes. With a little nosing around and a couple ventures down private drives, we found it.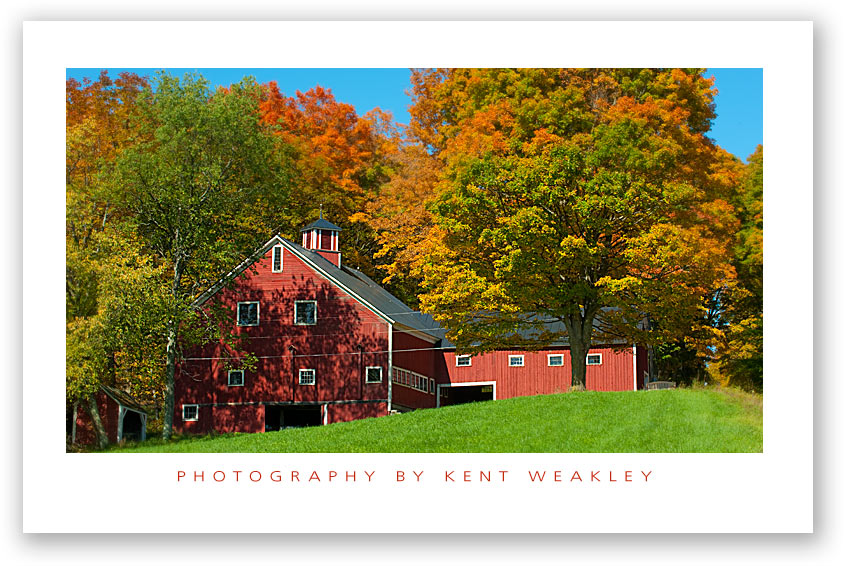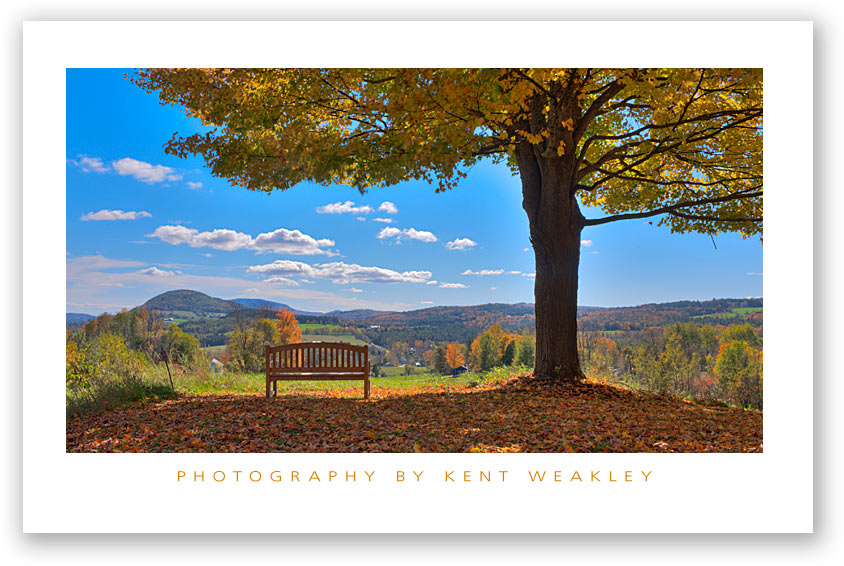 I've come to a very serious realization. The people who decide where to place power lines can only fit into two categories:
#1 number crunching, left-brained, numb skulls with not even 1/100 of an ounce of visual, artistic, or creative vision within their esthetically void bodies, or
#2 they all were once miserably married to landscape photographers who drug them around the country and made them wait for hours for the light to be "just right" only to hear their spouse whine about power lines being in the way.
If you know someone in this profession, please let me know if I'm correct or not. 🙂
The following day it was time to move to photo subject number two, the moose, or as I like to call them – meese. 🙂 However, the meese we were looking to see were in Maine. Time to hit the road east. As we traveled through the mountains of New Hampshire, again we were inundated with countless scenes of autumn beauty. A few times, I couldn't stand it any more and I pulled over to get a shot or 20.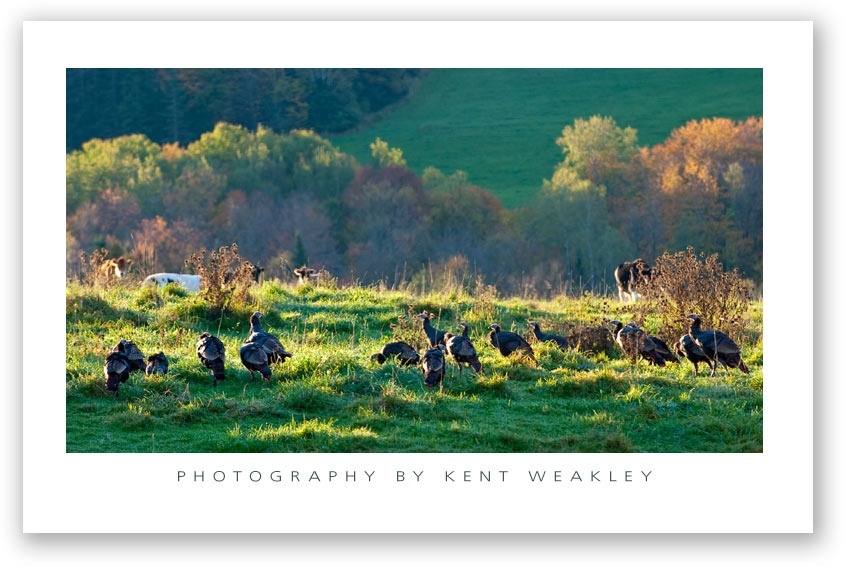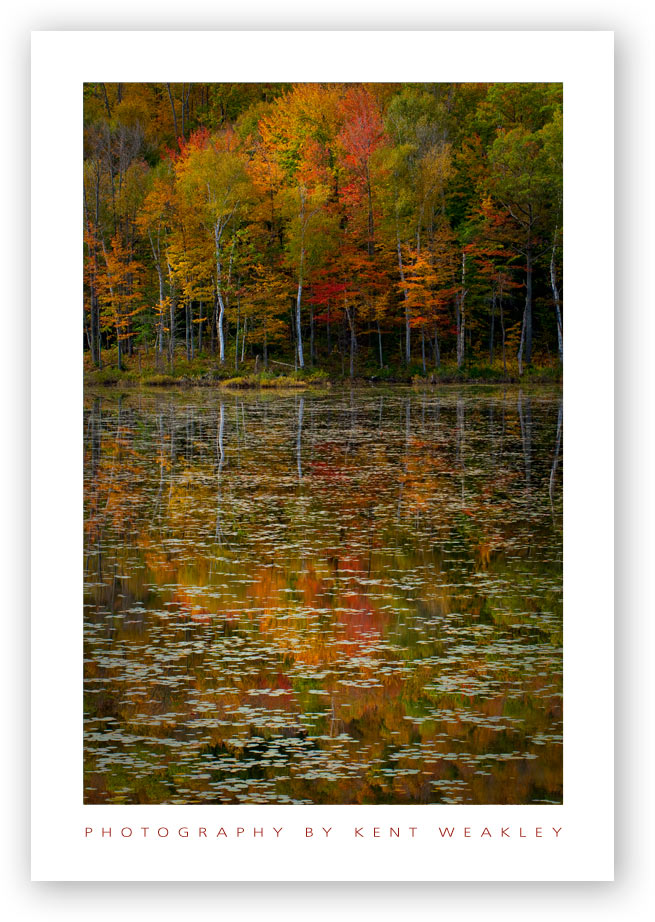 Finally arriving at our destination, we found our cabin wasn't ready yet. With some afternoon light left, we decided to go out on our first moose hunt. All the conditions were ripe for spotting a moose as we entered their pristine environment. Arriving at a popular pond for moose, our breath was taken away by the view. The water was relatively still and reflecting a mirror of fall chroma. (click the image to enlarge.)
The afternoon light diminished and faded. No moose graced our presence, and I started to become concerned. Had I brought my animal loving son 1,100 miles from home to see nothing but landscapes? He was excited to see meese, and we needed to see meese. We had the "remember it's wildlife and you never know what you'll get with wildlife" speech on the drive back to the cabin.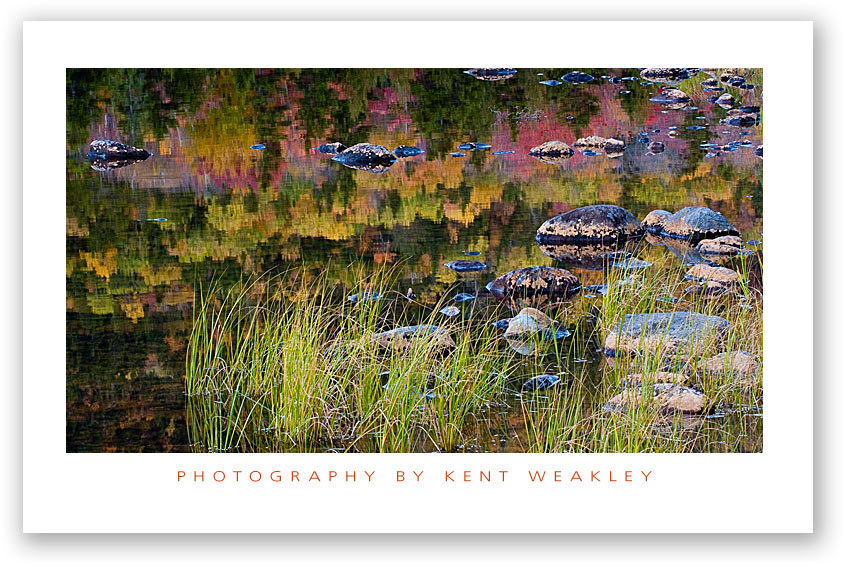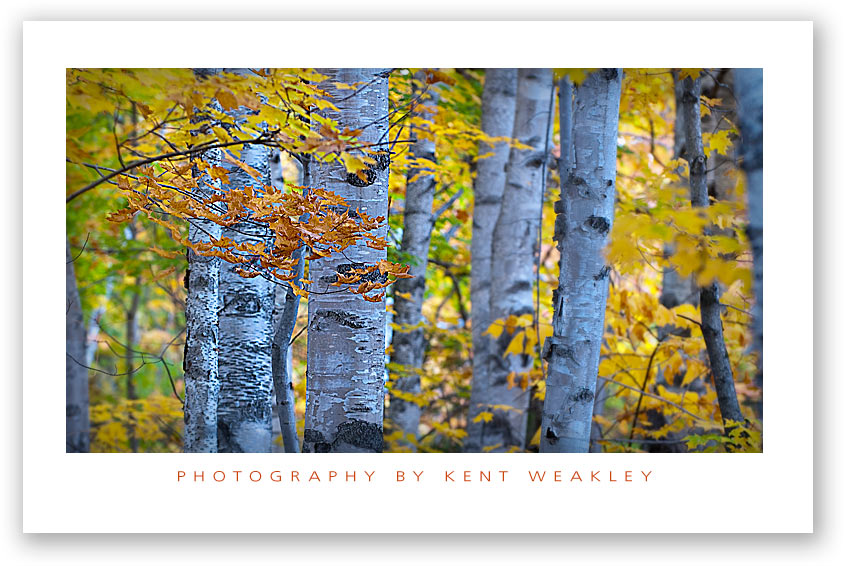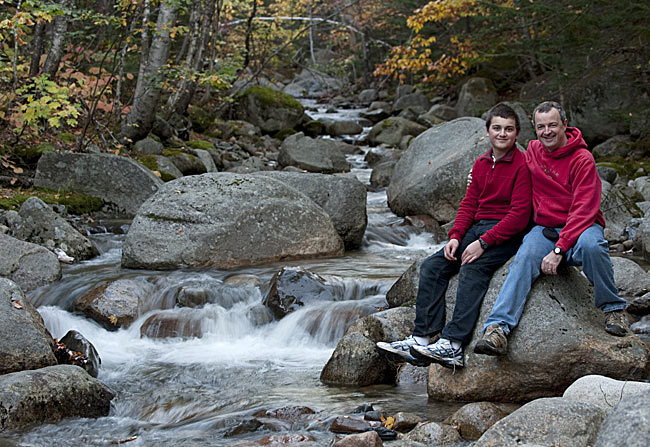 It had been a long day of driving and I decided to let Max play in a stream, throw some rocks, and unwind. I, of course, kept shooting landscapes. But in the back of my head I kept wondering. Would we see moose or not??? Stay tuned next week to find out.
TO BE CONTINUED… Part 3 >>>