Tweet
Autumn Photo Adventure ~ Part 1
This year's autumn photo adventure was a twisted uprooted version of it's earlier self. Last year, my long time friend (since kindergarten), Guy, and I went to Maine on a trifecta photo subject quest – leaves, lighthouses, and moose. Our mission was a success. So successful, we decided it needed to be repeated. All was on track until an illness in his family forced him to travel home two weeks before our trip. He had to back out of the photo adventure sequel. With rooms booked and tickets purchased, I had to make a decision. The way I saw it, I had three choices:
Cancel and not go at all, probably losing some of the deposits
Go by myself
Take my 13 year old animal-photography-loving son, Max, out of school and bring him along
After much discussion with my encouraging wife, and reassurance from my son that he would get all his homework done, I went with the third option. It was father and son time, in a grand way. Max has loved animals since he could mimic their sounds as a baby. As a family we have travelled the country and photographed everything from Bleached Earless Lizards, Clark's Nutcrackers, and Sea Cucumbers to wild California Condors, Mountain Goats at Glacier National Park, Yellowstone Bison, and Alaskan Brown Bears. We frequently take our boat out on one of our great central Florida rivers and photograph the numerous American Alligators and wide variety of birds. When I was on this New England trip last year with my friend, I thought about my son being with me the whole time.
Travel day arrived and rain filled the radar for all of Vermont and New Hampshire. No problem, we looked for the bright (or positive) side. The rain and overcast skies are simply God's softbox. No hard shadows, and nice saturated colors. That's the attitude and we're going to stick with it. BTY – That was a photo tip, entwined within this story 🙂
While checking in to get our rental vehicle, the nice lady asked me what I'm doing in New England. I actually paused and asked myself the same thing. What am I doing here? Well…I could tell her the story about how my son and I are on a photo adventure of a lifetime, or how my friend was going to come, but couldn't. I could have even asked her to pull up my previous blog post with the overdone foreshadowing. Instead, I said "I'm here to see the leaves." To which she replied, "OH, You're a leaf-peeper!". "A what?" I asked. "You're a leaf peeper. That's what we call people that come to see the leaves."
I had to smile, but inside I was a bit deflated. A "leaf peeper"! That meant I was nothing more than another tourist. I really don't like to think of myself as a tourist, even though that is what we are most of the time we travel. I'm an explorer hunting things that nobody has seen and I'm going to bring them back to the new world (this blog post) for everyone… OK, I guess I'm in fantasyland again, or I'm about 400 years too late for the age of discovery. I'll now return to the "Information Age". 🙂
With the rental car secured we were ready to go. We drove north out of New Hampshire and into the Vermont hills, with rain beating down. A couple hours later and much further north, almost on cue, the rain turned to a light tolerable drizzle as we approached the obscure photo-target-rich route I had painstakingly programmed into our GPS (affectionally named Lola) with the aid of Google Earth. We rounded a corner and a small little farm advertising Vermont Maple Syrup came into sight. There were NO "TOURISTS" or "LEAF-PEEPERS" in sight anywhere! Let the games begin…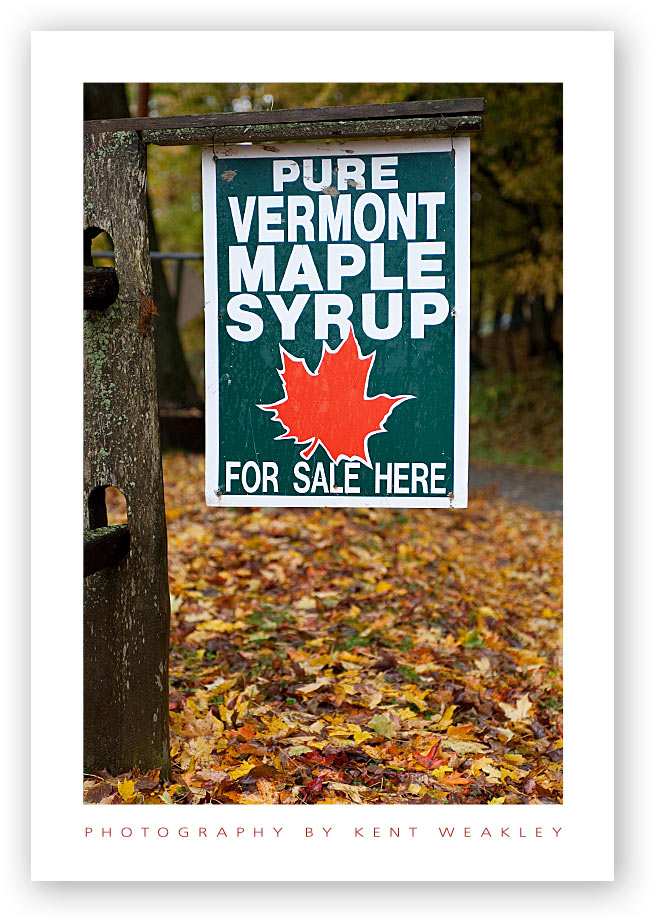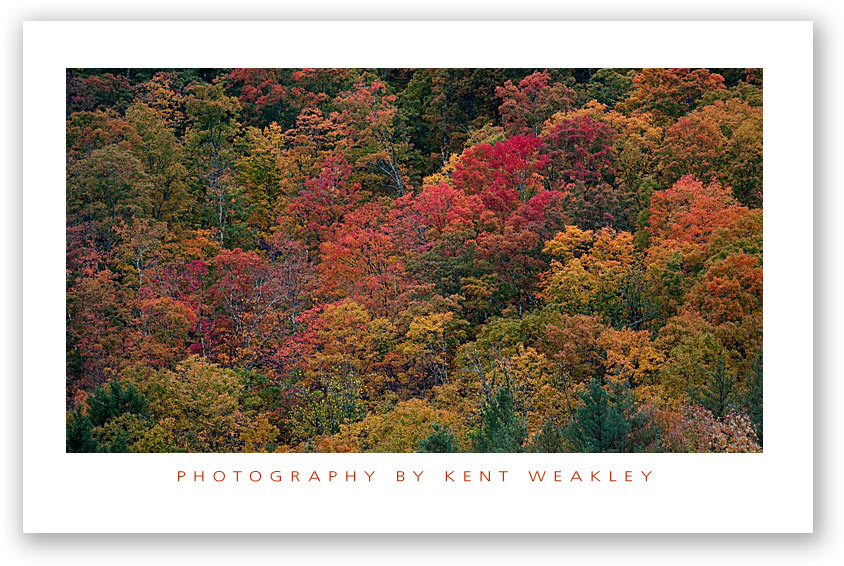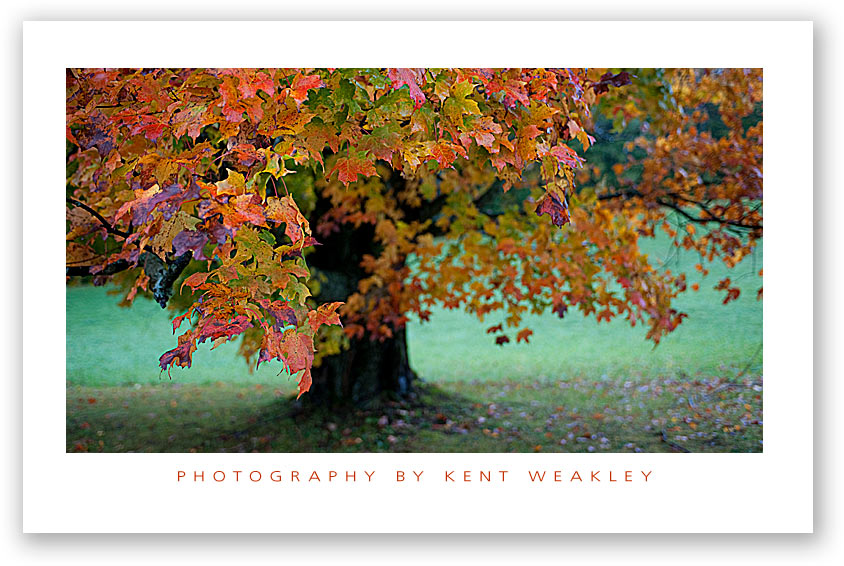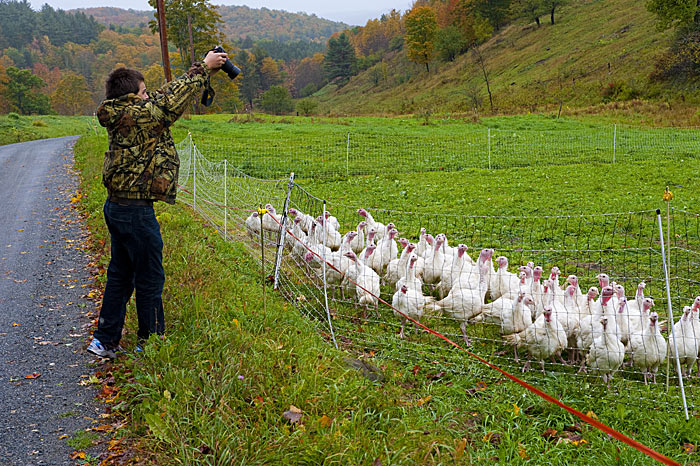 When I say he loves to photograph animals, I mean ANY animals. Can you hear me saying "watch the electric fence"? I wonder where he might have gotten that idea for a different camera angle? 🙂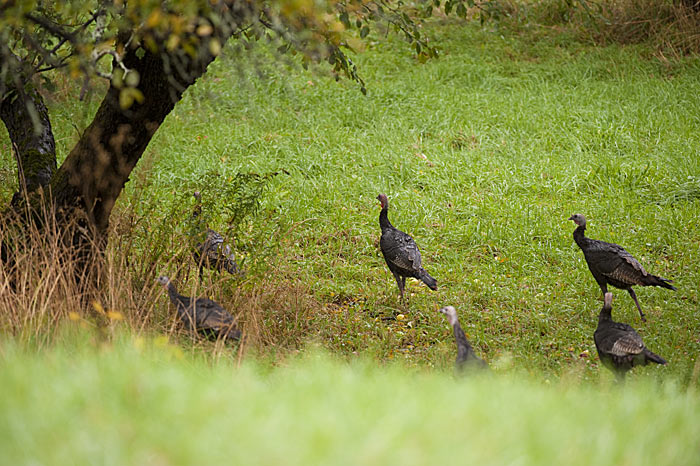 Ironically, only a short time later we can across a rafter of wild turkeys. I would have driven right by them, but Max spotted them on a distant hill top.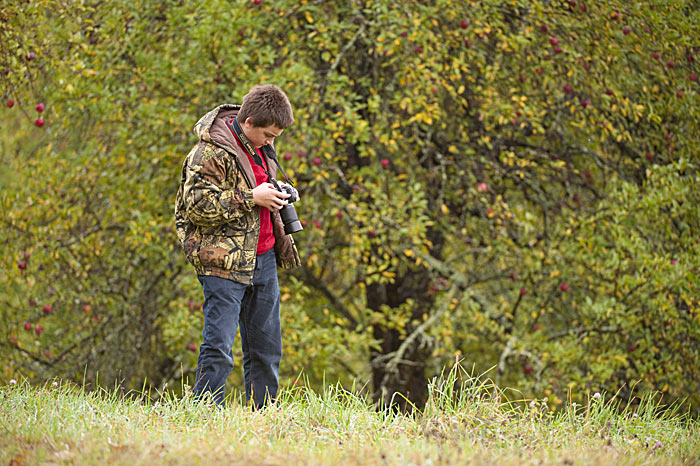 I think this can be called – field chimping wild turkeys. 🙂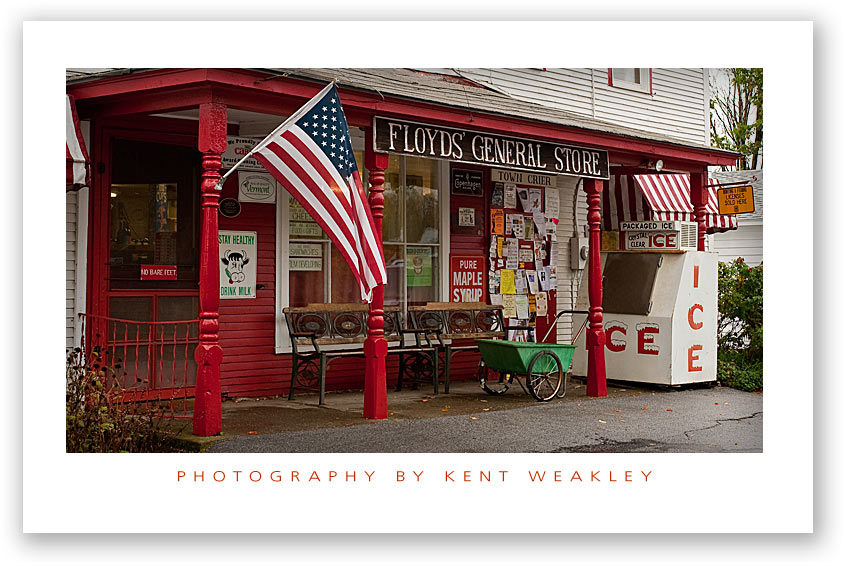 I would hang out a Floyd's if I lived there. Not because I needed something, but for the sense of connection to the community. In the center of this store is a huge cast iron wood burning stove with several chairs scattered around. It was afternoon and we missed what looked like the morning gathering. Some hats, a pipe, several old magazines laid around like your grandfather's living room might appear. It was clear this was much more than a little "general" store, this was and most likely is the pulse of everyday life being shared and cherished.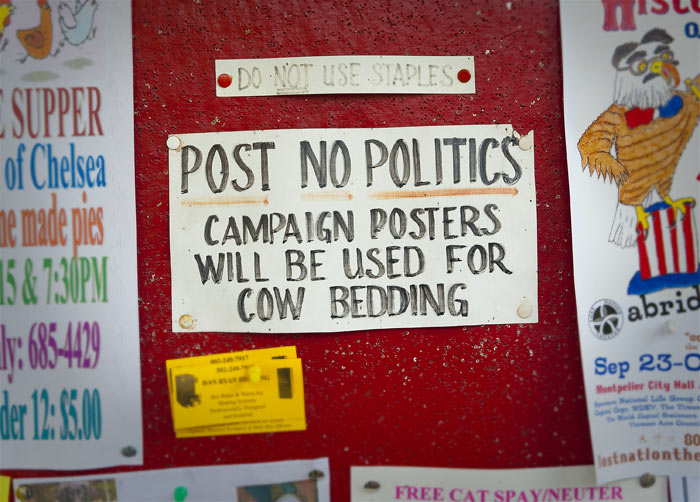 I've often wondered what happens to all those political signs after the election. This is a pretty good idea after, or maybe even before the election!!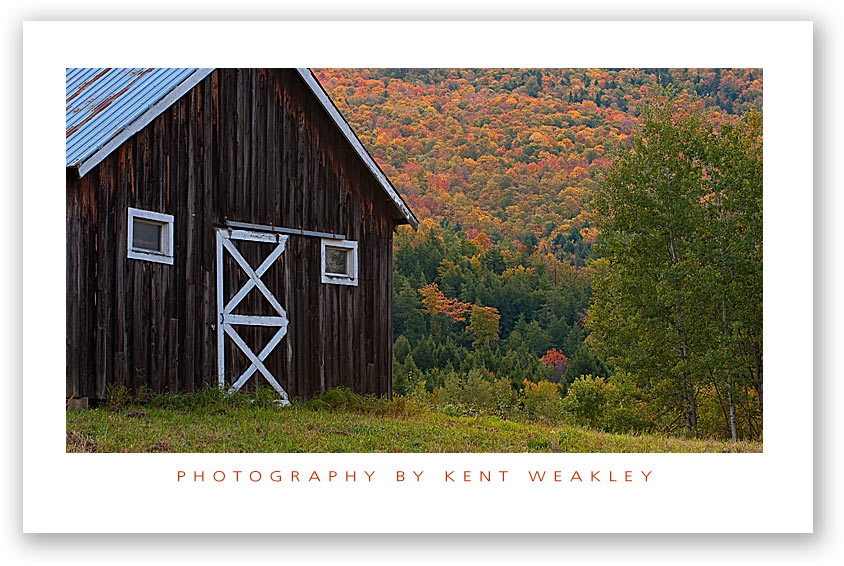 DAY TWO arrived with similar weather, but change was on the way, as it always is. 🙂 We drove and drove and drove, hunting for just the right composition with structures and leaves, or whatever we could find. This was landscape heaven. The only trouble was slowing down and finding one area that would work well. Everywhere you looked there was beautiful color and the chance for a shot.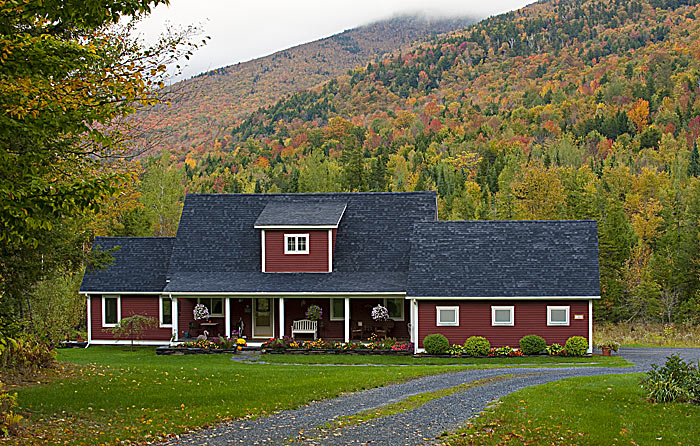 I had to photograph this house. Can you imagine living here with that view of the autumn hillside. Granted, it will be a bunch of sticks in a few weeks and then covered with snow for what will feel like an eternity, but for two or three weeks, it's AWESOME!!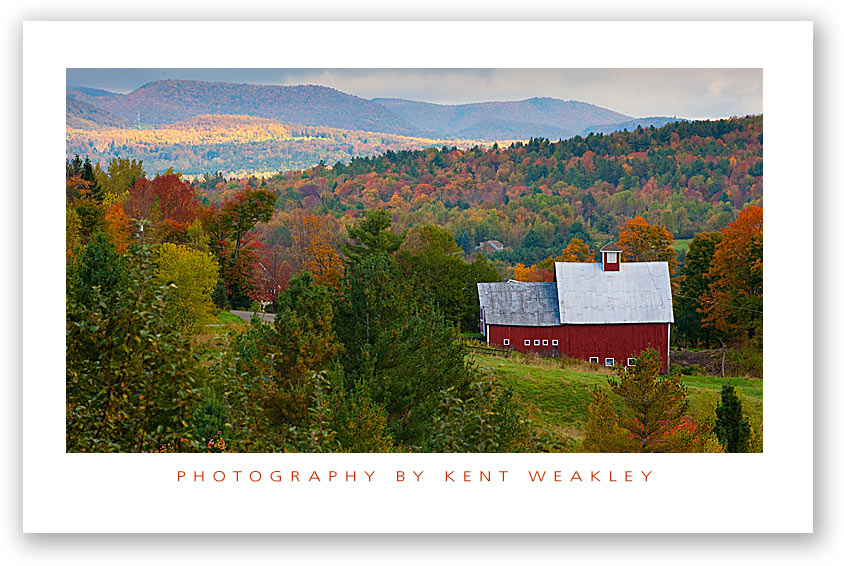 Remember the "different" camera angle mentioned above? This shot is from my eye-level standing on top of our rental car's roof. I think it was OK afterwards. After all…"it's a rental" 😀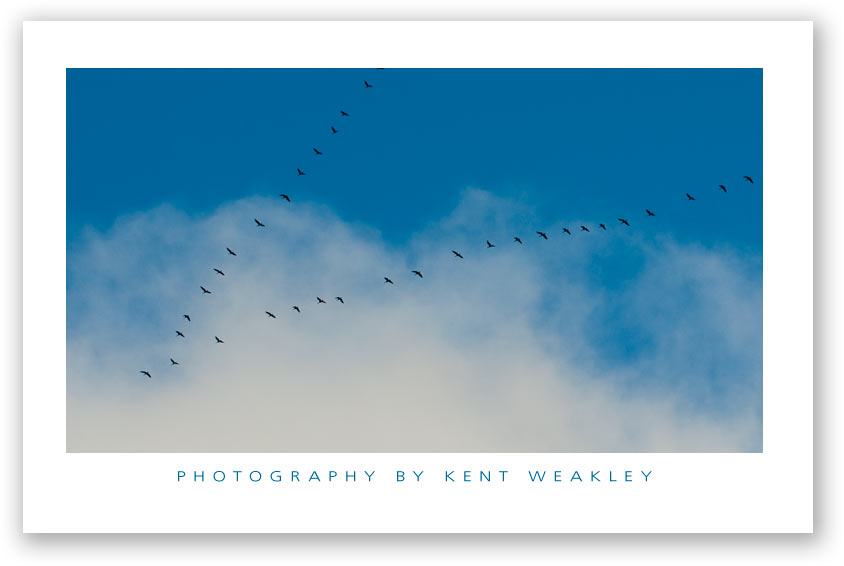 Not so much the landscape enthusiast, I'm convinced Max can just make animals appear out of thin air. As I was going through, what must appear from Max's point of view, the painstakingly slow process of shooting yet another landscape, he pointed out to me the southbound travelers overhead.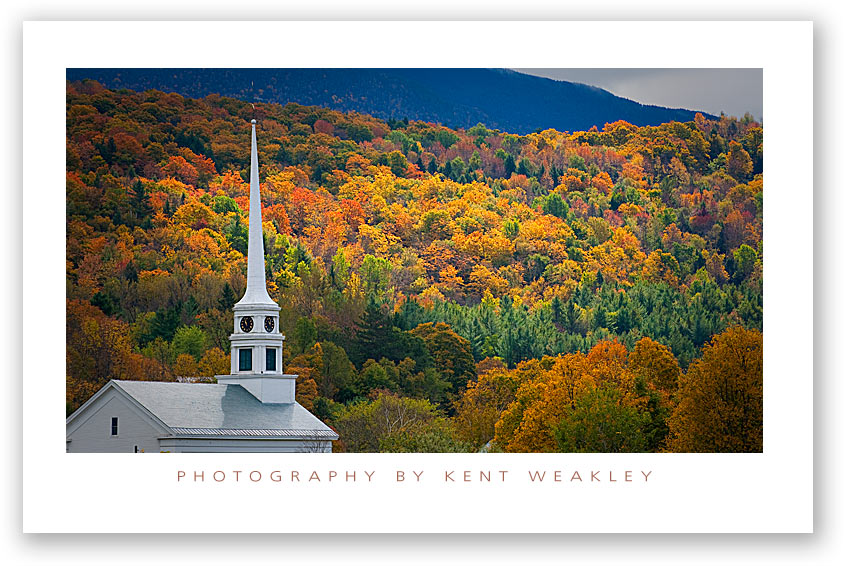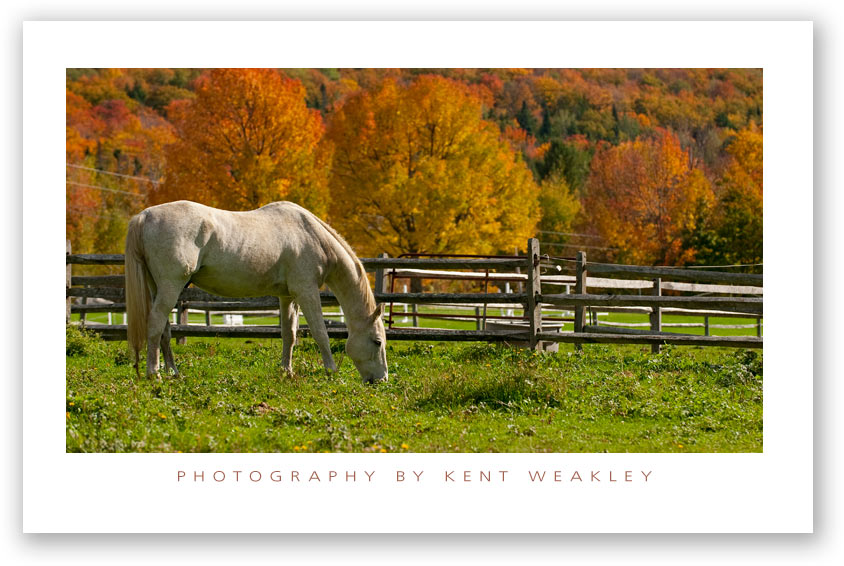 As we drove through quite narrow country roads void of tourist and "leaf peepers", the warm sun became more constant. Max, who had been getting over a cold was tired and couldn't fight the hum of the road and the warmth of the sun any longer. He slept and I continued to drive. As I would find a scene I wanted to shoot, I'd quietly ease myself out of the car, get the camera, shoot a bit and sneak back in the vehicle.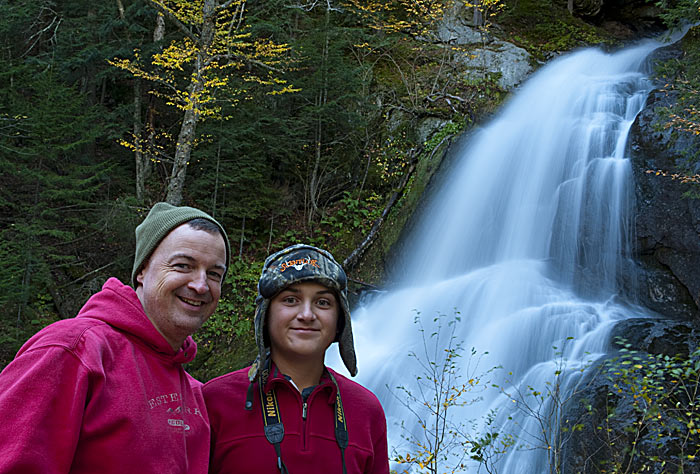 After his refreshing nap, we visited Moss Glen Falls. Yes this is a touristy place with tourist and I even saw some people "peeping" at leaves. OK, I'm just a tourist, I'll get over it and just enjoy the journey. 🙂 We had to get some, very expensive, Vermont Maple Syrup. As it turned out it takes 40 parts sap to make 1 part syrup. In other words, the $26 half gallon we purchased, took 20 gallons of sap to produce. This won't be poured out like the $1.47 high-fructose corn syrup usually used at home. Can you say "rationing"?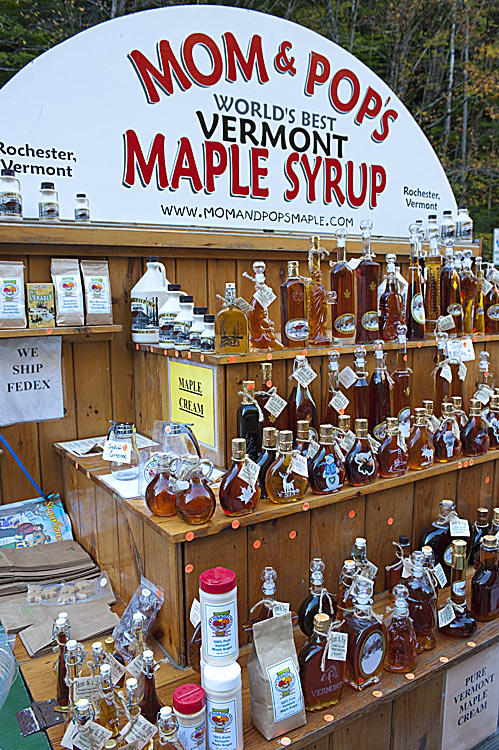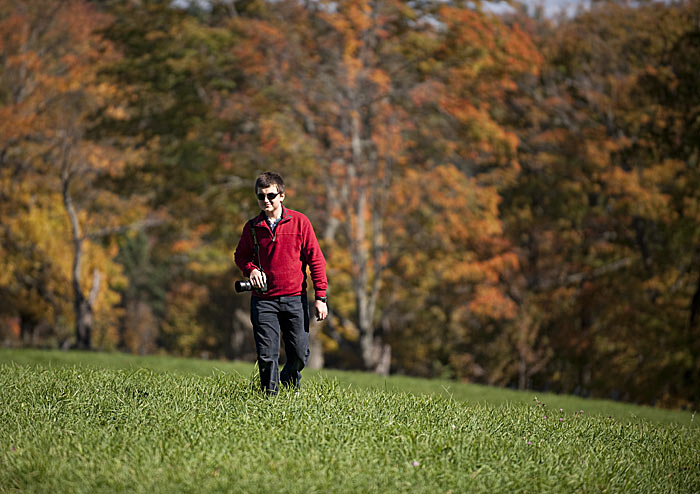 Max returns from exploring a field over the hill, while I make yet another landscape image.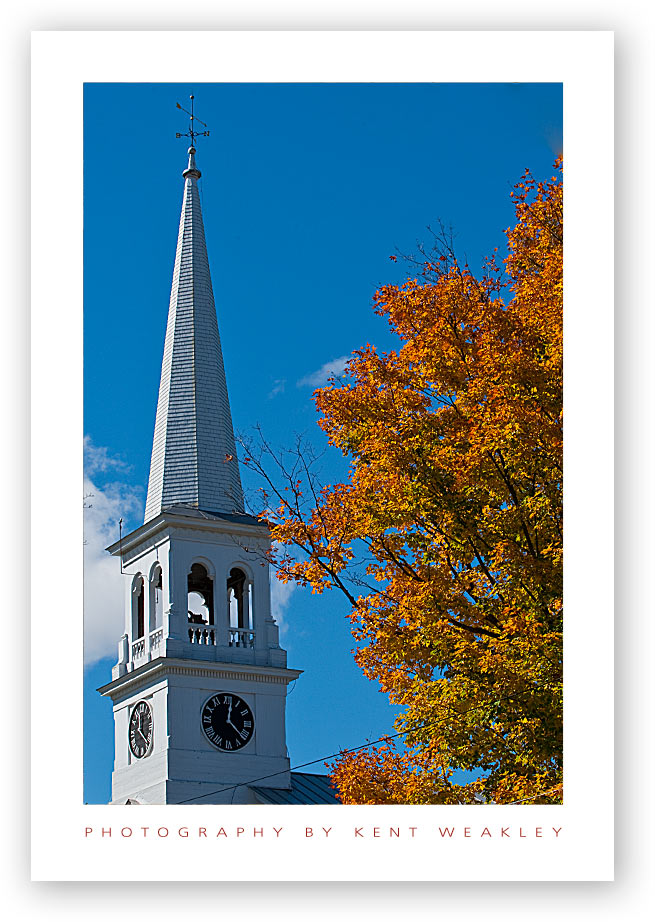 While shooting a little church in a very small town, we came across some other non-tourist "photo-adventurers" who suggested a small town north of our planned route. With the day looking great, we decided to head to the suggested town. What awaited us there was breathtaking. That's where we'll pick up the adventure in next week's post. Until then, stay tuned…
TO BE CONTINUED. >>> Part 2