Tweet
5 Ways to Max Out Your Kit Lens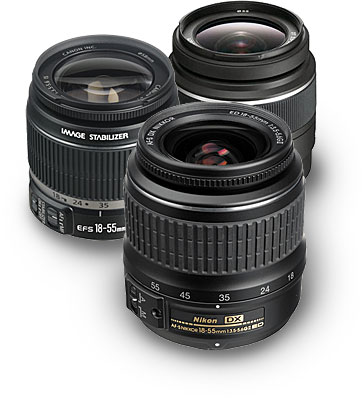 Kit lenses are a great option to add to your purchase of a new camera. Camera bodies can be bought by themselves, but if you're just getting started, an affordable kit lens is a great way to go. By far the most common kit lens is the 18-55mm f/3.5-5.6. This lens is a good general lens for wide-angle through medium-range photography.
Now this lens is not considered "Fast Glass", but don't let that discourage you. A kit lens, used the proper way, will yield photographs that few will be able to tell from the more expensive lenses.
Kit Lens, here are five ways to get the most out of yours:
1. Sweet Spot
All lenses have a "sweet spot" where they will create consistently sharp images. The 18-55mm f/3.5-5.6 lens' sweet spot is around f/8. You can shoot at higher or lower aperture settings without problems, but for maximum sharpness and clarity, shoot in manual or aperture mode set at f/8.
2. Towards the Light
As we mentioned these lenses aren't considered "fast glass" and don't do great in low light, but guess what? They are super stars in bright light. Try to use your lens in bright lit or sunlit scenes and again you will make stellar images.
3. Brace Yourself
Your camera holding and shooting techniques really do play into the sharpness of your images. Especially in lower light situations, it's critical that you take time to brace yourself, use two hands (and arms), squeeze (don't press), and practice breathing, in order to make sharp photos consistently.
4. Get Down
When you have to shoot inside or in low light there are a few things you can do.
• Don't zoom in tight, go wide. Zooming in further reduces the amount of light entering the camera
• Dial up your ISO. But, know that higher ISO will introduce noise (pixelated color specks) in your images
• Get support from a tripod or monopod. A tripod will greatly improve long exposures, such as in night time photography
5. Center of the Road
Similar to the aperture sweet spot, typically the sharpest zoom location is in the middle of the range, around 35mm. This is also, a good area to make beautiful portraits. At 35mm, or an approximate 52mm equivalent with a .5 or .6 sensor, the magnification of the lens creates little distortion and appears very similar to how we would see someone standing in front of us, minus the peripheral vision we enjoy.
There's no reason to get lens envy, or worse go into debt purchasing an expensive lens, especially since you have a very good lens in your hands right now. Let me know if you use a kit lens like this and if these tips are helpful.
________________________________________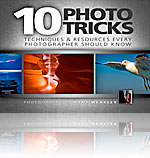 Sign Up and receive FREE ~ "10 Photo Tricks" eBook. Simply fill out the form in the right sidebar. Check out my current online eClasses for in-depth photography learning. You can also find me on Twitter, Flickr, and Facebook. If this was helpful, please leave a comment below. Thanks!