Tweet
5 Photo Composition Tips Via Italy
Photographing in Italy was an amazing blessing in the form of an award from Fuji Film for winning their international photo competition.
I will never forget the day my cell phone rang and Dave from Fuji started asking me questions about my submitted photo. They really needed to be sure the photo came from a Fuji. Of course, it did. I had been creating infrared images with a Fuji S2 which can "see" IR light with the aid of an IR filter. They needed to see an original file.
It had been months since I entered the contest. I had forgotten what any of the prizes were.
"How's everything looking Dave?", I asked. "Well, I'm not supposed to say anything, but you've already won the nature category.", he replied. Stunned and nearly speechless I responded, "What? You're kidding right?" Dave-"Ya, you won the LL Bean moose photo trip. The judges are seriously looking at your photo now for the grand prize, but they want to make sure it's a Fuji image."
LL Bean Moose Trip? What? My head was racing and I'm sure my car was too, as I really wasn't giving it much attention. I vaguely remembered reading about the prizes when I entered. I just remember thinking it would be nice to get some recognition of any type from Fuji.
I sped home on cloud nine and tore through my files to find the image needed. After sending the file, I returned to the contest entry website. There were the prize details about photographing moose in Maine with LL Bean…and then the grand prize. It was so big and beautiful, I had never even given it any serious thought. A two-week photography excursion in Tuscany, Italy. I could have exploded with excitement.
The next three days were utter and complete torture. "No I didn't win, just get it out of your head", I'd tell myself. Then, I'd turn around and think "Italy, OMG, I always wanted to make infrared images of Italian Cypress. Can this really be happening?"
Fast-forward >>
Yes, it happened and it was an amazing experience. My wife and I had an awesome experience. Each day was filled with culture, history, art, people, food, and everything Italian. We barely slept, as we were shooting early morning and late afternoon light everyday. I remember my photography reflexes were on high-alert. I didn't want any photo or opportunity to go to waste.
I knew photographic composition would need to stay at the front of my mind at all times in order for me to come back with the images I dreamed of. Observation, alertness, and flexibility were key elements that helped me capture shots I couldn't wait to share with everyone back home.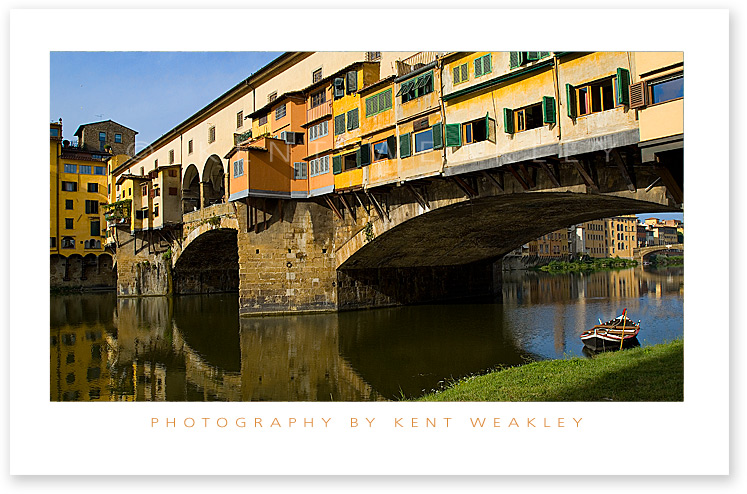 1. Change Perspective ~ Find different ways to look at something. The Ponte Vecchio bridge in Florence has been photographed a million times from down river (and I have that shot too). In order to get this angle I needed to be a bit more adventurous.
As it turned out, trespassing in Italy is much like trespassing in the United States. If you see where you need to be and can get there quickly and quietly, get the shot, and get out, it's all good. OK, I'm not condoning illegal activity. What do we tell our kids? "Do as I say…" 🙂
There's a little athletic club along the bank, it was Sunday morning, nobody around, and their cute little fence didn't go all the way to the water of the river. OK, enough said. The point, change perspective and pump up your compositions (and your adrenaline).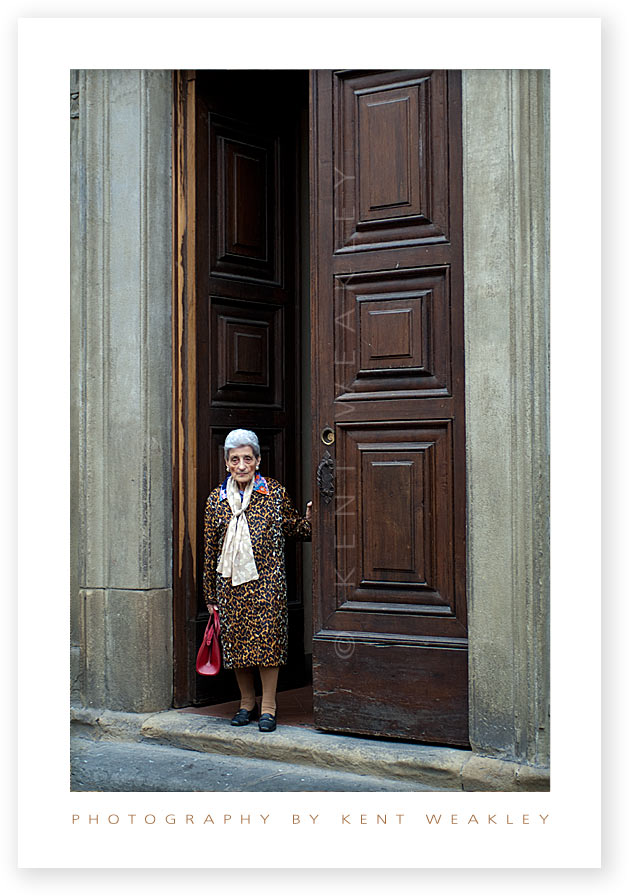 2. Size Contrast ~ We all love contrast, whether we know it or not. As humans we're drawn to contrast. This adorable little old lady pulled open this huge door, three times her height, and just stood there for a moment. It was as if she knew I was ready to take her photo before she opened the door. Keep an eye open for size contrasts.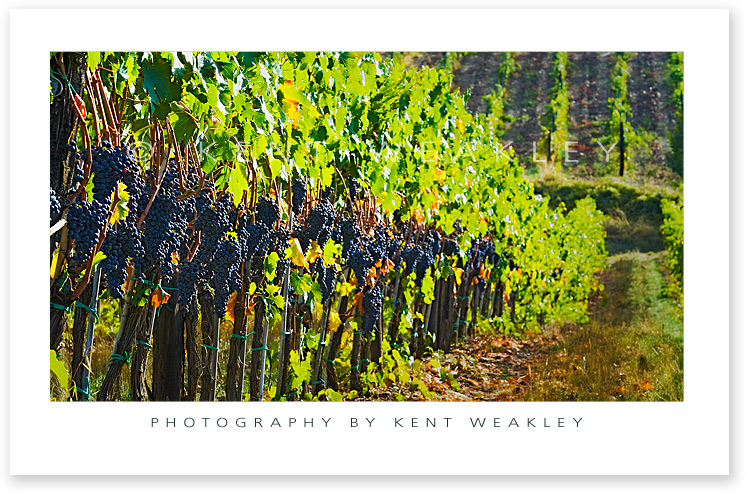 3. Leading Lines ~ Place your subject, in this case lush ripe Chianti grapes, at the end of a leading line. This plump row of vines works it's way right through the photo up to the purple bunches in the foreground.
4. Patterns ~ Patterns and repetition of like shapes or structures creates a simplicity that helps the viewer see the overall shape and beauty of many things all at the same time.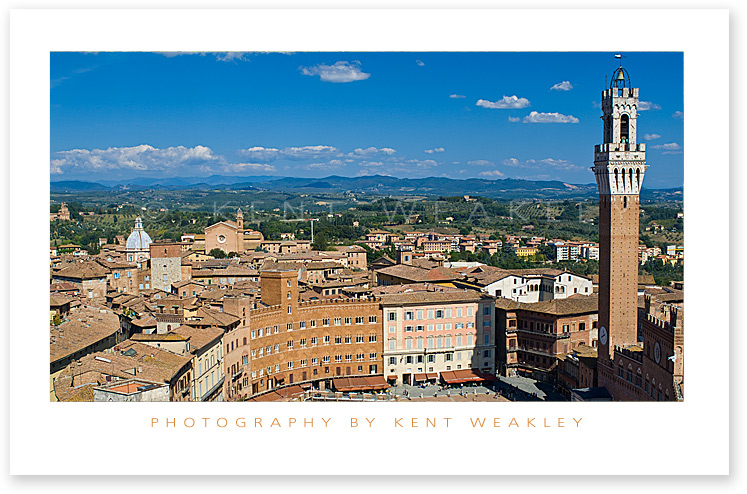 5. Space ~ In landscape photography, conveying a sense of space and depth is critical. One important way to show space to an observer is to include foreground, middle ground, and background in your image. This image of the City of Siena in the foreground is balanced and contrasted by the lush green surrounding countryside.
Bringing it all together, Photo Composition needs to be always in the front of our minds as we make photos.
More than just a few "composition rules",
Composing starts and ends with YOU
If you've ever been frustrated with photo composition,
Here is a solution ~ Photography Composition eClass by Kent Weakley
There's a great chance it will change the way you photograph!
Join Us for the Next eClass!

---