Tweet
31 Days To Understanding Photoshop eBook/Video Tutorial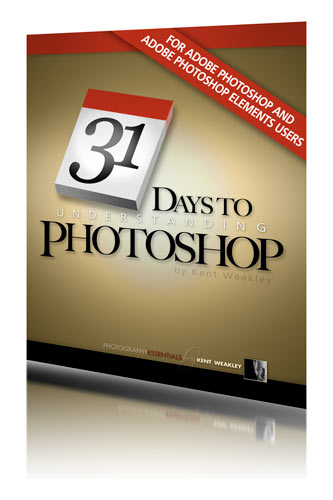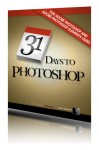 You know Photoshop and Photoshop Elements have amazing power, you want to harness that power to make your images sing, so what's holding you back?
• New to Photoshop or Photoshop Elements?
• Frustrated and not sure what to do?
• Struggling to use Photoshop smoothly?
• Thinking about trying Photoshop?
The world of Photoshop is huge and so are the possibilities,
but in order to get there you have to overcome the basic hurdles.
Best way to learn Photoshop
Repetition and working hands-on!
We learn best by doing tasks and repeating them over time.
Easy way to learn Photoshop
31 Days To Understanding Photoshop is just that. Thirty-one interactive lessons, one per day. Each lesson has a supporting video and follow-along files provided to make learning a breeze. Learn a little bit each day and at the end of the month you will be comfortable using Photoshop.

---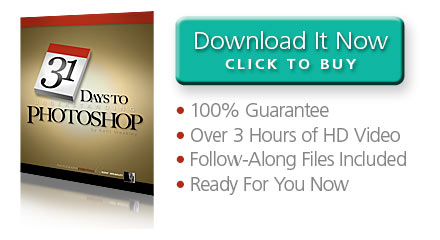 ---
In 31 Days We Will Be Covering:
Workspace
Toolbar
Shortcuts
Cropping
Image and Canvas
Document Sizing
File Formats
Saving For Web Use
Selection Tools
Selecting Hair

Color Spaces
Using Colors
Understanding Layers
Layer Adjustments
Layer Masks
Layer Clipping Mask
Transforming Layers
Layer Styles
Adobe Camera Raw
Levels

Curves
Cleaning Images
Hue/Saturation
Converting to B&W
Isolating Colors
Adding Gradients
Sharpening
Selective Focus
Bringing it All Together
Troubleshooting
---
Guaranteed Knowledge! PLUS, Lifetime Access
If you are not happy with 31 Days to Understanding Photoshop within 60 days, I will refund your money. If you're looking to learn the fundamentals of Photoshop, I'm so positive this eBook will work, I'll return your money if it doesn't. It's that simple.
---
How Does this eBook/Video Tutorial Work?
This is a digital eBook that is ready to be downloaded right now. The eBook PDF is your directory to each daily lesson and link to each lessons' video. You do need to be connected to the internet to view the videos. Also included with your download are all the follow-along files to work along side me and repeat the steps I show you in each video. Since you own the eBook/Video Tutorial you can view lessons and videos whenever and as often as you'd like.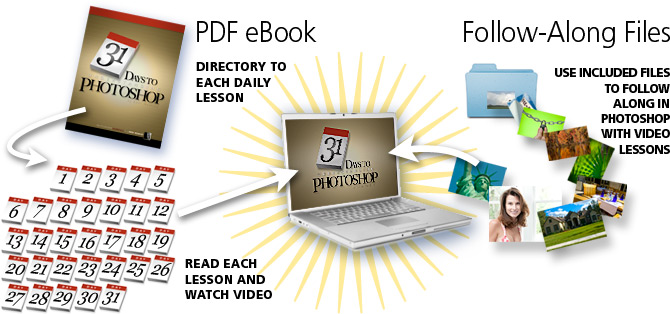 ---
You Might Be Wondering…
•  Yes, this is an all-digital eBook/Video Tutorial. There is no printed material to clutter or pollute.
•  While many lessons are geared towards photographers, this eBook will help anyone learn the basics of Photoshop.
•  For best interactive viewing of this eBook use the free app Adobe Acrobat Reader.
•  This eBook was created with the latest version of Photoshop and is 99% compatible with the last 3 versions of Photoshop.
•  This eBook can be viewed on any computer or device that can browse PDF files, including the iPhone, iPad, Droid, Netbooks, etc.
•  For best results, download and uncompress files on computer first before transferring the PDF to other devices
•  iPad users can upload the eBook to iBooks and browse within the iPad iBook reader (as well as other PDF apps)
•  The follow-along files needed to be downloaded and opened on the computer you will be using Photoshop on.
•  All lesson videos are recorded in beautiful HD quality and can be viewed full screen, if desired.
•  In order to view the lesson videos, you will need internet access.
•  If you have any questions about this eBook/Video Tutorial course, please email me direct.
---
Adobe Photoshop Elements Users
While this course was not designed specifically for Photoshop Elements, approximately 95% of the lessons are compatible. There are some minor differences, but surprisingly few. I have placed notes in the sidebar to indicate where Photoshop and Photoshop Elements differ slightly for your convenience.
---
---
Who Is This eBook/Video Tutorial For?
•  Anyone who has considered or is curious about using Photoshop
•  People who have attempted to learn Photoshop, but lost direction for one reason or another
•  For those who use small parts of Photoshop, but are confused or uncomfortable most of Photoshop
•  If you are interested in making Photoshop work for you and you want to learn the foundation basics of Photoshop, this eBook/Video Tutorial is for YOU! 
Your Purchase Is accessible online for LIFE! Learn at your pace and as often as you'd like!
---
---